A basic human need is shelter. For survival, we count on buildings to protect us from predators and extreme weather. More than that, our bricks and wood, clay and glass, metal and cement can become the backdrops of our lives; housing our most precious memories, serving as an extension of our personalities, and providing a safe space that we call "home."
For many people in the poorest communities in Africa and the Caribbean, finding and maintaining a home that meets their family's needs can be challenging. At Life In Abundance, our staff and community leaders often make home visits, giving us opportunity to witness these kinds of needs firsthand. Here are two stories of how our local churches have stepped in to help in Rwanda.
A House From Heaven – Fidel's Story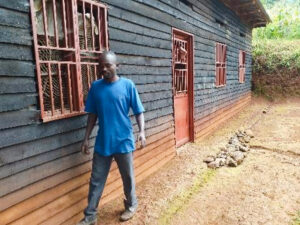 Fidel lives in a western province of Rwanda with his wife and four children. One day, a pastor came to visit and was astonished to see the family's living conditions. They were squished into a one room house with little food or hope. When Pastor Deo asked how the church could help the answer was obvious: Fidel needed a new house. Deo says, "It was something too big for me to think of. But I trusted the Lord and gathered my Christians in the church to discuss the matter." The congregation responded positively and started giving. They bought 43 iron sheets, nice doors, and windows. Fidel and his family are now comfortable in a bigger home. He says, "I was lost in sin, far away from God, but now I am back…. This house is from heaven." He has started telling his neighbors about God's grace and supports the church's ministry serving others in poverty.
No More Roof Issues – Virginie's Story
Virginie has been a widow for almost two decades. She and her two daughters survive off daily jobs she looks for in her village in Southern Rwanda. For years they lived in a house with major roof issues. Virginie says, "My house was too old, and we stayed in it for we had no other choice." She explains it wasn't fully a house but more like living outside.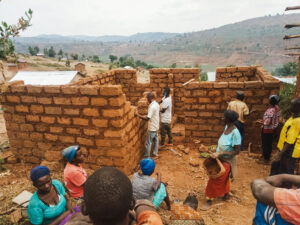 Her local church, including a group of young people saw the family's need and initiated a building project. Now Virginie is the proud owner of a sturdy house that protects her from outside elements. She says this gift has made her want to proclaim the good news of Jesus more and help others whenever she can. "I thank LIA for this project, and I really thank God for everything."
Praise God for his shelter in times of need and for the work being done in Africa and the Caribbean to provide homes to the poorest among us.