Garth was wasting time and he knew it.
Although his father sent him to school, the young man was living with no sense of direction. He didn't know what he wanted in life or what his future would hold. Silent Hill, Jamaica, where Garth was from, may have been a rural farming community, but that didn't mean he was producing good fruit on his journey. One of seven children, in a poor family, Garth was growing older and needed ways to earn more to contribute. More than that, he needed a purpose.
In November 2017, he began to understand this when he gave his heart to Jesus Christ and was baptized at a tent crusade, held by one of LIA's church partners. After that, he signed up for a micro enterprise training LIA was hosting with the church. Garth was inspired, submitting a business plan to do farming using drip irrigation so that he could plant crops even in the dry season. He says he thought of farming because he loves it and it was something he could do with little help. He had even already started gathering materials.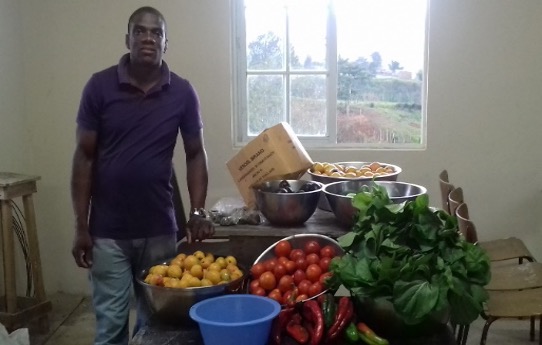 A micro loan allowed Garth to purchase some other needed supplies and set things up on a small plot of land. He reaped a plentiful harvest the first time he planted lettuce and sold it to a processing company that supplied vegetables to the hotel industry.
His work was feeding people, and with his profits Garth paid his tithes and invested in his business, expanding to potatoes and yams. He repaid his first loan in record time and was excited and encouraged by the momentum. Garth says he started recommending the training to others and that giving to the church and those in his community made him feel good about himself.
This wasn't the only fruit in Garth's life. After he got saved, he developed a love for reading the Word of God, studying, and sharing his faith. He attended Bible studies and prayer meetings and was soon chosen as a leader in the church. He was trained by the church and LIA as a Transformational Development Agent and has become passionate about loving others and caring for the wellbeing of vulnerable families. He does exhortations at church and home visits in the community. Bishop Robinson says, "Garth is one of the youngest, but most efficient clerks in the organization." Garth recently became an ordained minister and is stepping into even more responsibility at church.
The Lord changed the course of Garth's life and is still working on him. Garth's prayer is that he would remain faithful as he lives out his life's purpose and reaps a good harvest for the kingdom of God.