Living as One
The Lord has called us as believers to live in community with one another as we serve and submit to each other out of reverence for Christ. We are to teach and correct, encourage, pray for one another, and bear each other's burdens as a Christian community. Without community, we are unable to experience the "fullness of Christ" as we grow in love for one another.
When we engage with communities, we seek to reflect relationships as they are expressed in John 17:21 when Jesus prays for all who believe.  We long to walk alongside those we serve and cultivate ownership of their transformation.
The Community Impact Assessment Report
For 20 years we had only anecdotal evidence that our model was successful to the extent that we had claimed. Testimonies of what God was doing in communities we had phased out of were more than enough proof for us to conclude that we were onto something that worked and were called to continue the work.
It wasn't until we sat at a table with a trusted counsel who had supported us for years that we felt the Lord was calling us to be above reproach in our claims. This "community" of like-minded brothers and sisters mirrored the glory God shows through working in communal fellowship, proving the efficiency of our vision. With prayer, encouragement, and wisdom, these faithful men and women who truly believed in the work we were called to challenged our claims and requested scientific proof of the impact we were having.
And so began our journey of transparency that surpassed all others that would shape the next 20 years of this ministry and fan the flames of hope in ways we could not have imagined.
"Our overall conclusion is clear: the community work established by LIA continues to flourish even after LIA is no longer present."

– The Institute for Urban Initiatives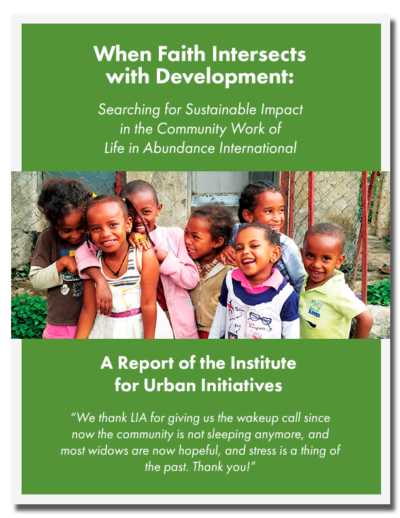 6 Sample Communities Transformed for Life
When Faith intersects with Development – an independent study by the Institute for Urban Initiatives
Sign-up and download this 53-page report highlighting our transformational development work in 6 communities within 2 countries.