The LIA Summer Internship is a culturally immersive missions experience created to equip and empower young adults to explore the intricacies of sustainable community transformation in both rural and urban contexts. At LIA, we long to raise up the next generation of Christian leaders by mobilizing young adults into the mission field and equipping them to serve local communities using our wholistic development model. Click below to learn more about our model:
The LIA Summer Internship provides an opportunity to participate within the various programs and projects implemented within specific communities we currently serve. Our hope is to give our interns the same heart for church-centered community transformation as God has given us!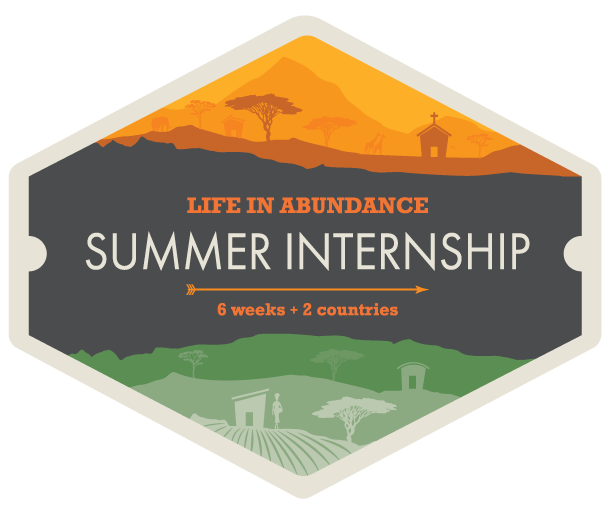 LIA Summer Internship 2020
Our internship is an invitation for US residents ages 19-25 to walk with us "boots on the ground" for a 6-week experience covering two of our program countries, Kenya and Ethiopia. As our interns step into each community, they will have the opportunity to serve and engage with locals, targeting the specific needs of that region.
Check back soon for more specific info about our 2020 Summer Internship!
Watch how the LIA Summer Internship revealed Emilee's passions and changed the trajectory of her life.
Watch how the LIA Summer Internship transformed how Lauren viewed missions and ministry for life.
Why should I intern with Life In Abundance?
Sacrificing 6 weeks of the summer as a young adult may seem like a lofty call. However, our summer program is more than just an internship. Interns will receive empowering training and first-hand experience relieving poverty on mission for an extended period of time. While on the field, interns will be immersed into our transformational development model and be able to attest to the Lord's gospel transformation in a powerful way.
Who can intern?
Participants must be between the ages of 19-25 and US residents. We seek interns who are adaptable and willing to serve and love where they are needed.
When is it?
The LIA Summer Internship takes place between June and July. Check back soon for more specifics about our 2020 Internship!
Do I have to attend all 6 weeks?
Yes! All interns are required to participate in the full 6-week internship program.
How much is it?
The LIA Summer Internship is around $7,500 per participant. This includes lodging and meals for pre and post trip activities, international flights, lodging and meals on the field, and training materials. Check back soon for a more specific amount for our 2020 Internship!
Participants who apply for this internship are responsible to raise the total amount of funds. If funds are not all raised through support, the participant will be responsible for covering the remainder of their balance in order to take part in the internship.
How am I expected to pay for that?
We believe our God is the ultimate provider. Because of that, we recommend that participants support raise in order to attain the funds needed for this internship. We will guide students in how to have support meetings with family and friends to ask for spiritual and financial assistance for the trip.
Where will we be?
The LIA interns will spend 6 weeks traveling to various rural and urban Kenyan and Ethiopian communities in which we currently serve.
What will we be doing?
Our interns will visit various communities that we currently serve and partner in our work. Participants will also receive elements of our training throughout the internship to provide a clear understanding of our model and the work they'll be doing within the communities.
Where will we be staying?
The team will stay in various guesthouses throughout urban and rural Kenyan and Ethiopian communities.