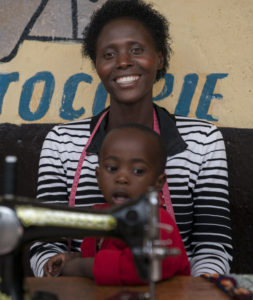 Victoria is a joyful, hardworking mother of two who has always believed in the potential for a better future. However, making money to help care for her family in the country of Rwanda has often been a challenge. In the past, no matter how hard she worked, she couldn't seem to make a profit. Victoria's tailoring business only earned her enough to pay for renting the sewing machine she used and the place she leased to do her work. She'd end her days feeling tired and discouraged.
This changed when Life In Abundance started partnering with Victoria's local church, Friends' Church, with the goal of economically empowering disadvantaged people in the community. After being selected as a beneficiary of the program, Victoria knew she'd get the help she needed to save her failing business.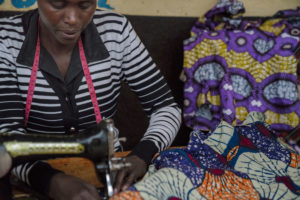 Through the church, Victoria attended a three-day training on generating income where she learned self-motivation and start-up strategies for developing a healthy business. She submitted a business plan that was approved by a committee of church leaders and LIA staff members, and received a loan of $100.
That was all it took to buy her own sewing machine and give the business the boost it needed. Now, the successful business owner has fully paid off her loan and has started saving money on a monthly basis. Victoria is now empowered and hopeful. She continues to see potential for the future, dreaming of being able to buy another sewing machine and someday owning her own shop where she can use her gifts and teach other women what she's learned.