Tsedeku is a strong, visionary woman. She's a proud wife and mother of two. She is a devoted Christian and her family worships at Arat Kilo Emanuel Church, one of LIA's partner churches. Tsedeku and her husband live in Addis Ababa, Ethiopia and have struggled for years to provide enough food, clothing, and school supplies for their children.
Tsedeku is hard working and tried to earn more money to support her family by selling popsicles in a small kiosk on the side of the road, but was only ever able to earn less than $2 each day. Tsedeku and her husband clung to their faith. Though desperate and unhappy with the outcome of their jobs, they continually reminded themselves to stay strong and believed that better days would come in God's timing. Tsedeku prayed diligently that the Lord would offer her sustainable employment to support her family.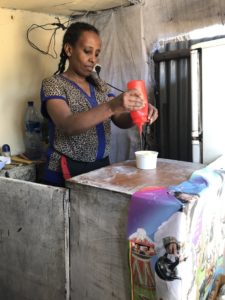 During this time, Life In Abundance empowered Tsedeku's church to care for the needs of the community. The church was specifically trained and equipped to offer their community income support through micro-loans. After carefully examining the financial challenges of her family, Tsadiku was among those selected as a beneficiary of the church's economic empowerment initiative.
LIA and Emanuel church worked together to provide an income generating training for the community to teach practical strategies and for starting small business and other income generating activities. Tsedeku was inspired by the training to start her own business. She eagerly presented her business plan and was approved for a micro-loan from the church to start selling milk and yogurt at her kiosk.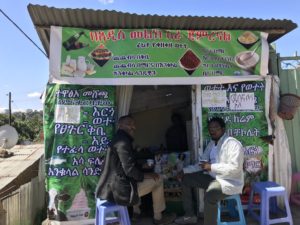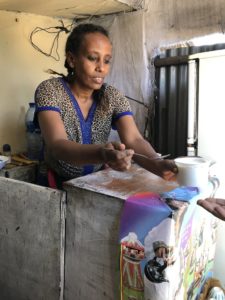 Tsedeku used part of the loan to renovate her kiosk and buy stools for customers to sit on. Highly encouraged by the loan she received and the materials she bought to get started with her business, Tsedeku started selling egg sandwiches, and yogurt, and other local food. After a month or two, she noted that most of her customers had requested yogurt with different flavors. Hearing this feedback, she added a variety of flavors to her yogurt selection and, to her surprise, gain exponentially more customers. Tsedeku plans to expand her business by having a well-established and spacious yogurt shop.
Tsedeku stands confidently as someone whose life has been transformed. She is excited to be able to financially help her daughter who's currently studying medicine. Tsedeku went from hopeless to dignified, desperate to joyful. She is a testament of God's grace and mercy.