The Mathare slum in Kenya is one of the most impoverished areas in the nation. Work is difficult to find and many suffer from unstable jobs that don't pay enough to support their families. Phillis is a Mathare local who now serves Gospel Discipleship Victory Church as a community health evangelist (CHE) coordinator, but she wasn't always able to offer her free time to the church. Phillis knows the suffering that occurs in the slum from experience.
For more than six years, Phillis washed people's clothes by hand to try and make a living. Each day she'd wake up and go door to door hoping that someone would offer their laundry. "I barely got enough money to provide food for my family," Phillis explained. "Washing people's clothes is a job that is very unreliable to us as an income source. There have been several weeks that I was not even able to find one household to wash clothes for." Phillis' husband worked hard to help support them, but struggled finding daily work as well. Phillis was losing hope. Her work was unpredictable and she and her husband were trying their best to put food on the table for their four children. The unreliability of work in Mathare made the stress of family life almost unbearable.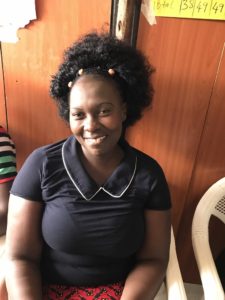 Three years ago, LIA provided a training on income generating activities through a local church in the community. Phillis attended and enrolled in a savings and loan group through the church. She was initially loaned $300 to help support her business. Phillis abandoned her unstable laundry job and chose to start a local shop selling goods. In less than a year, Phillis was able to pay back her loan in full and take out larger loan to invest in a storefront kiosk. Phillis now rents the storefront and packs it full with goods that sell quickly.
Phillis reflected on how drastically different her life is today by saying, "My family now has a sustainable income source and my older son is supporting me at the kiosk when I am doing community activities with my church. I am so thankful to God and to all who provided me the opportunity to establish a business that's a sustainable income source for my family."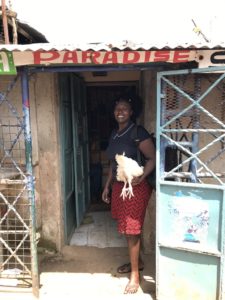 At Life In Abundance, we long to restore dignity to those who've felt defeated by the detriments of poverty. Savings and loan groups hosted by local churches that we've empowered allow local residents to build a sustainable income and wisdom in finance. The groups provide a support system and training for how to handle savings and income. Without the constant worry of where a paycheck will come from, people like Phillis are given the freedom to relationally invest in their local church community to love and support others. Praise God for the fruit of Phillis' transformation!