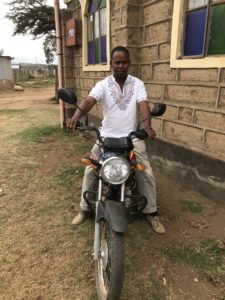 Five hours drive from Nairobi, Kenya in a small town called Narok, Daniel rides his LIA motorbike around checking in on the various projects in the community. Daniel is a Community Health Evangelist (CHE) coordinator in his local community. The CHEs locals who've been trained by LIA to progress the programming and evangelistic efforts within their community. Daniel serves at Full Gospel Church of Kenya and coordinates the CHE activities for 10 LIA partner churches in the local area.
Full Gospel Church of Kenya was constructed in 2014 and began partnership with LIA 2 years later. "Since our partnership with LIA in 2016," Daniel explains, "a lot has happened in our community and…the local government itself is supporting our efforts in various ways."
From the support received from LIA, churches in the Narok community have initiated water and sanitation health (WASH) education, food distribution programs, and savings and loan projects. So far, the partner churches have mobilized the community and constructed 5 public latrines in different local areas, including one at Daniel's church. Families in Narok have also been trained by their local church on various income generating activities such as cake and soap making. Additionally, 29 impoverished families received goats as a means to boost and sustain their household income.
All of the initiatives and programs in Narok are tangible ways a single town has been mightily impacted by its local churches. We intentionally work with and equip local churches in the communities we serve because we believe it's who Christ has commissioned to carry out the work of transforming communities. The church knows its local community best and can advocate for its members.
Daniel has seen firsthand the power that the Lord has given the Church to transform communities. With the help of LIA's transformational development training, Narok will never look the same.