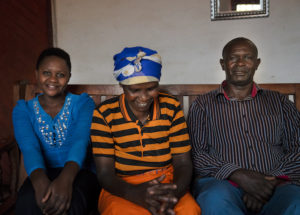 On the southern coast of Lake Kivu lies Cyangugu, a serene Rwandan community known for its lush landscape. A gentle breeze rustles over the land and carries the morning melodies of fishermen singing as they bring in the previous night's catch.
Twenty years ago, the city of Cyangugu looked drastically different than it does today. Plagued with war and ethnic divisions, Cyangugu was an area that festered with hate. Everest knew this narrative all too well having been there himself. During the time of the genocide, Everest was sentenced to serve 20 years in prison. At the time of his imprisonment, his wife Stefanie was left with only a high school education to support their daughter. She was in an extremely vulnerable position as their home was not fit for anyone to live in.
She did the best she could to make a living by working on other people's farms and saving what little she had to put their daughter through school. Though Everest's sentence was burdensome, his wife saw hope for him. "I made a decision that I would wait for him. No matter how long it took, I was going to wait to see him again."
Everest was counting down the days until he'd be reunited with his family. While serving his sentence, Everest met Pastor Deo. Deo's church had started a prison outreach ministry and he began to build a relationship with Everest. As Deo met with Everest, he shared about the grace and forgiveness found in the Lord. Everest was grieved by his sin and led to repentance as he gave his life to Christ. As time went on Everest shared about his wife, encouraged that she chose to wait for him, but worried that she was struggling to support their daughter. A large earthquake had recently shaken the entire city of Cyangugu. Everest had called home and was told that the house didn't collapse, but the mangled structure was unlikely to stay standing for much longer.
Upon hearing about Everest's family, Deo's heart was heavy. He talked with his church and, together, they decided to take on the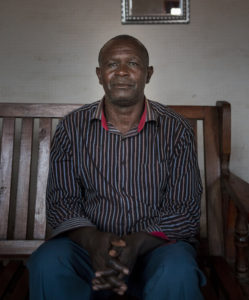 responsibility of loving Everest's family. During this time the church participated in our Training of Trainers empowerment program. "We were deeply challenged by the training and our eyes were opened," Pastor Deo explained. "We realized that we needed to be the church. We needed to love and serve those in our community with the resources we already have."
Empowered through our model, the church got together and decided to build the family a home, giving what little they had to buy building materials and furniture. Everest was deeply moved by the church's love for him and his family. "When I came home I was so touched, so touched…
" Everest paused, "I just don't have the words…but let me say that Pastor Deo is the most wonderful and loving person I know. What he has done for me and my family, I just can't express. I have truly seen the love of God through this man."
Deo's church was also able to involve Everest in a microloan program which allowed him invest into different breeding and agriculture initiatives around their home. The economic empowerment provided by the church gave Everest the chance to provide for his family and reintegrate into the community.
Through the empowerment of our model, Pastor Deo was equipped to mobilize his church community to not only love and support Everest's family, but also build them a home. Everest has not missed a single loan payment and plans to build savings to provide for his daughter's university education. Pastor Deo is amazed by how drastically this family has been transformed in such a short amount of time. The most impactful change, he says, "is that there is so much joy in this home. Overwhelming, life-giving joy! To think that our church did this is humbling. It is a gift that the Lord saw it fit to invite us into this."