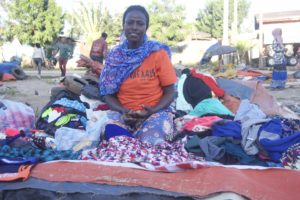 Birke is a young, single mother of her 8 year old son who was struggling to survive on her own in Ethiopia. Birke and her son lived together in a small single room that she rented, but she didn't have enough income to support them each month. Without the job or resources she needed, Birke struggled to care for her son in the ways she longed to. Birke felt hopeless and didn't know where to turn.
Meanwhile, Life In Abundance had partnered with a local church in Birke's community. The church implemented an orphan and vulnerable children (OVC) initiative to assist children in the community. Birke was so thankful to be able to enroll her son in the program and receive support. The project provided various food support, sanitary materials, education materials, school uniforms, and other clothing and shoes for her son.
With resources to help provide for her son, Birke chose to take part in a basic business skills training seminar also initiated by the community to teach her how to engage with income generating activities. The business skills project assisted Birke with a small fund to help her run a small business. Birke now sells various clothes on the street and has earned a good amount of money! Her monthly income has enabled her to cover the cost of food, rent, and other expenses. She's building up her savings and is in a position to cover her son's school expenses once the project phases out.
Birke is a beautiful picture of the Lord's redemption through LIA. She has regained confidence and dignity as she's able to support and provide for her family. Birke's future plan is to expand her business and find a small storefront to market her goods. Perhaps the greatest transformation of all is Birke's spiritual transformation. After joining this project, she heard the good news about Jesus from the project community mobilizer. Birke accepted Christ and has been attending a discipleship course at a local church. Her life is renewed and revitalized. Even her social interaction with neighbors has improved! Praise the Lord that we were able to empower Birke and restore the dignity God created her to have. Pray with us for the growth of her business and for great transformation like hers to continue in the community.