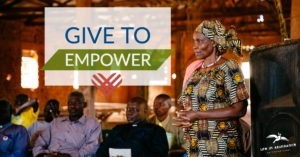 What is Giving Tuesday?
#GivingTuesday has become a popular hashtag phrase used on various social media sites toward the end of the year, but what is it? Giving Tuesday is a global giving movement that's been built by individuals, families, organizations, businesses, and communities in countries around the world. Each year on the Tuesday after Thanksgiving in America, millions of people come together to support and champion the causes they believe in. Falling on November 27th this year, Giving Tuesday is a day dedicated to generosity and togetherness.
Why is it important?
"So then, as we have opportunity, let us do good to everyone, and especially to those who are of the household of faith." Galatians 6:10
#GivingTuesday is an opportunity for unified generosity. It's an important day because it's an intentional reminder to praise God for what He's given us and that all is His. It's a day to give back and return to God what's already His by stewarding our resources for the good of others. Giving Tuesday orients our eyes away from ourselves and refocuses them on the greatest commandments—love God and love others.
Your gift on Giving Tuesday is more than money going toward relief. Our approach to poverty intentionally reflects our desire to empower communities to cultivate ownership of their transformation, and we want to invite you to be a part of it! A donation to Life in Abundance is a gift of empowerment. Whether your donation goes toward equipping a church with training for how to reach out to their communities or helps start an early childhood development initiative, you can rest in knowing it's going toward the pursuit of sustainable, "wholistic" transformation.
How can I be involved?
Giving Tuesday is for everyone! This year, we're hoping to raise $5,000 to support the countries we serve and their programs. The best way to be involved is to give and steward well the resources the Lord has graciously provided for you. Another way to get involved is to share! Share about Life in Abundance, our #GivingTuesday campaign, and why you support us on your social media to get the word out! Finally, pray. Pray that the Lord would provide for us as He always has and that all glory would be to Him.

Be sure to mark Giving Tuesday on your calendar and look out for more social media updates!