Cyangugu, Rwanda is home to a small baptist church in the town of Kamembe. For many years this church wrestled with a divided leadership team causing strife throughout the church. As the congregation dwindled and donations were sparse, the church leaders were faced with a decision: sell the church and its property or rebuild what the Lord has established? They didn't have the resources to provide fruitful ministries and even the pastor was facing hunger. The leaders and pastors struggled to identify what it was the Lord was calling them to do.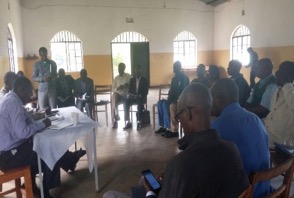 Right around this time, a team of three people came to the church and shared their teaching with the congregation. This brought vision to the leaders and they determined they would submit to the Scriptural promise of Nehemiah 2:18:
And I told them of the hand of my God that had been upon me for good, and also of the words that the king had spoken to me. And they said, "Let us rise up and build." So they strengthened their hands for the good work.
They decided to rebuild the structures within the church and trust that God would refresh their leadership and revive the congregation. We were fortunate enough to partner with this church and provide our "wholistic" transformational development training. The new leadership empowered its members and embarked on rehabilitating the church. Attendance increased and they were able to ordain three new pastors to lead and shepherd the growing congregation.
Equipped with new resources and training, the leaders were able to maintain the church, supply new chairs, build new rooms to equip their ministries, and support different initiatives to serve widows and orphans and run their own school program. By God's grace, the church was able to start these initiatives without external aid, proving our training to be effective and sustainable.
Before being trained and equipped to minister to their community, the church considered themselves as dry as the bones God showed to the prophet Ezekiel (Ezekiel 37). Just as God promised to breathe life into the bones in the valley, we've watched as he's restored fruitful life to this church in Rwanda. The Lord has risen a great army to fight the evils of poverty present in this community. Praise God with us for his work and pray this Rwandan church would continue to bear fruit!