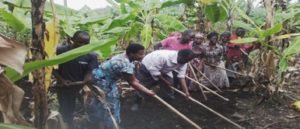 Last year, we had the privilege of partnering with Rubona Presbyterian Parish in Rwanda. The community of believers wrestled with the fact that there was an evident divide between the pastors and the rest of the congregation. Although they wanted to transform their community, the pastors' strategy was to serve the people of the community without getting their hands dirty. This separation of power between the pulpit and pews left the congregation feeling like there wasn't a space for them to meet and support one another.
We met them where they were and equipped members of the church to be Community Health Evangelists (CHEs) to empower them to take ownership of the issues they saw in the church and in the community. After this training, the pastors altered their strategy. The leadership of this church joined the people of the community and began working with them instead of serving them from a distance.
Acting as the body of Christ, the pastors and congregation came together and cleared a local field to prepare for the next planting season. In working together, the members and pastors realized their call to be the hands and feet of Christ. They met with one another and began discussing issues both in the church and in the community that they wanted to solve together. They stopped separating responsibility, and instead, came together to bear one another's burdens.
The church established a team of 11 CHEs with 7 different committees to provide structure for them to reach out to the needs of both the church and local community. One CHE was actually a beneficiary of the church's outreach. Before he was empowered through the Training of Trainers (TOT) program, Festo was busy looking after his wife who'd undergone amputation surgery after suffering from cancer for many years. When he and his wife returned home from the hospital, Festo was surprised to see that their land had already been dug and prepared by the CHE members of the church committees. Festo was so encouraged, he became involved as a CHE with a heart to serve others in his community as fervently as he'd been served.
This Rwandan community embodies community ownership in how they've come together to care for the needy for the glory of God. Each member of the body serves as the hands and feet of Christ to meet the needs of their congregation. Join us in praying that the fruits of their labor would continue!