We are eager to introduce the newest functioning branch of LIA in the United Kingdom! The Lord graciously laid the UK on our hearts as a potential partnership nation years ago and He has finally brought this vision to fruition. LIA-UK will exist to connect with churches, foundations, and individuals in the United Kingdom and invite them into partnership with the mission and model of Life in Abundance. The Lord has established our path and prepared the works He has for us as we go forth in eager expectation of His faithfulness in this venture! Our friend Jonathan Lamb has been hired as the director of LIA-UK and has already hit the ground running with building our vision for this branch. To get to know him a little better, we asked him a few questions.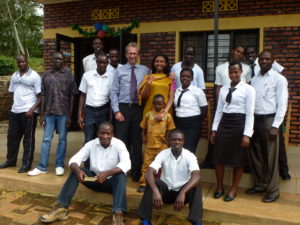 Jonathan Serving in Rwanada
Tell us about your calling and conviction to serve the kingdom. What were you doing before LIA?
I came to faith in 2004 through the Alpha Course (an evangelistic course that seeks to introduce the basics of the Christian faith through a series of talks and discussions). I started leading teams from my church to Rwanda in 2006 as I had a 25 year background in organizing international events for corporate companies (conferences, roadshows, and incentive programs in different parts of the world) and was used to taking people overseas. I led teams every year and, in 2013, I went to live and work in Rwanda (Cyangugu & Kigali) as a volunteer mission worker. I also have experience in brand communications and design so I would say that my background has mainly been agency based working for global corporations in marketing, events, design, and communication. Now I do Kingdom work!
What drew you to LIA?
I first met Dr. Florence Muindi in Cyangugu, Rwanda about three years ago. I was working as General Manager for a guesthouse when Dr. Florence and her son Jay were guests. They were there to look at starting LIA in the Lakes Region. I had met her husband, Festus, on a separate occasion in Kigali. I really liked the work LIA were doing, the Transformational Development model, local people training local people, and the sustainability that was achieved. I had some initial dialogue with Dr. Florence, a couple years ago, about the possibility of working for LIA as they were looking to start LIA-UK. At the time, I was not ready to come back to the UK and LIA decided they weren't quite ready to start in the UK. I returned to live in the UK last year in March and Dr. Florence emailed me in August asking where I was located. We met in London and, shortly afterwards, I was appointed LIA-UK Director. A week later found myself in Nairobi to meet the team and attend a meeting of LIA's Country Directors. I really felt that God had his hand in all of this from that first meeting with Dr. Florence in a guesthouse in Rwanda!
What are you most looking forward to in your role with LIA?
I'm looking forward to establishing the name of Life in Abundance and sharing the model of Transformational Development and with churches, foundations, donors and organizations here in the UK. I enjoy meeting people and building relationships, and it is good to have LIA's track record behind me as well as the support of LIA-US and LIA-Kenya to help me do all of this.
What do you do outside of your work with LIA?
I still support people and projects in Rwanda through educational sponsorship and a micro-finance small business loan program. I am Chairman and Trustee of a small charity that works in Rwanda, Uganda, and Burundi. I belong to two home groups in my church and regularly attend Bible studies. I live near the sea and some beautiful countryside so I enjoy walking (sometimes with my dog Jasper who was 'adopted' by some friends when I went to Rwanda). I enjoy going to the cinema, reading, and entertaining friends at home with a meal as well as catching-up with my daughter, Jenny, who is 27 and lives in London.