In Silent Hill, Jamaica the rain had just begun to patter on the dilapidated roof and already the water was beginning to leak into the modest shelter. With no money to support the cost of a home for herself and her two children who still lived in the home, Claudette was left to live in a shack on someone else's land to at least have a place to sleep. This condition was all too familiar for Claudette, lacking the support of a husband and struggling to provide for her children. With her youngest daughter and baby boy still in the house, Claudette desperately longed for stability and better conditions of living, but didn't know if things would ever change for her. In the midst of her hopelessness, Claudette made a new friend.
Pauline Webley-Gayle was a member of Christ Cathedral Community Worship Center, a local LIA partner church in the area. Pauline began consistently visiting Claudette and sharing the love of Christ with her. She would often invite Claudette to church, but was always met with an excuse as to why she couldn't go that week. This did not deter Pauline from continuing to visit and share the gospel. One week Pauline came to visit as normal and found that Claudette had been taken to the hospital for health issues she'd been battling. While in the hospital, Claudette discovered that she had diabetes that had gone untreated for quite some time. Not long before this, Claudette's daughter Shaniel had begun attending the local church. With her mother in the hospital, Shaniel longed for any comfort and support she could find. The church lavished Shaniel with encouragement and continually visited her and prayed for her and her mother while Claudette stayed in the hospital.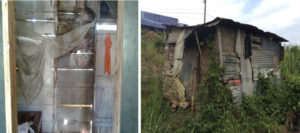 During this time, Pauline brought the condition of Claudette's home to the attention of the church leaders. Members and leaders of the church visited the home to determine how they could best assist Claudette and her family in their depraved state. After coming home from the hospital, Claudette and her children had the opportunity to live in another slightly more spacious house. While this house was an improvement from the shack they'd previously inhabited, the rotting wood in the back of the house and the many open gaps between some of the boards caused troubles for the family. The church determined to begin a seed project to refurbish Claudette's home.
After speaking with the church members, Claudette joyfully agreed to have her home renewed through the seed project. About this time a man from the church invited Claudette to an outreach event they were hosting. She gave no excuses, but agreed to come and began attending consistently. Claudette brought her daughters with her as well. All three were loved and cared for by the church and, together, professed faith in Christ and were baptized.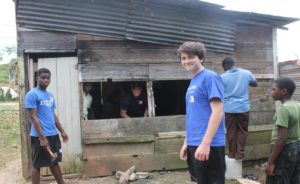 The women's lives were not the only things transformed through the church. At this time, family members, community members, the church, and members of a short-term mission team joined together to work on Claudette's house. They removed all of the old rotted boards from the back of the structure and replaced them with new plywood boards, adding a window and door.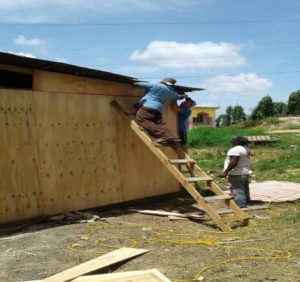 Claudette confessed that her life has significantly improved since receiving Christ as her savior. She has a hope that cannot be shaken and a church family to surround her with love and support. Her refurbished home provides a more comfortable space for her family to live. Claudette has even attested to how much transformation she's seen in her daughter Shaniel since accepting Christ. Shaniel has decided to return to school to be better equipped and her mother has noticed she no longer walks the streets promiscuously, but is invested in the church community. Grateful and encouraged by all the church has given them, the family has consistently attended services and discipleship classes to continue to grow in their faith. Claudette and her family are a clear picture of the Lord's redemptive work in the lives of those who call upon him.