Evening had already set over the slums of Kibera, Kenya when the sound of broken glass interrupted the still night. A brawl had broken out in the local bar and authorities were called to intervene. The subjects of the altercation were brought out from the bar and young Lorian was arrested for his involvement. Lorian had a history of being caught up with the wrong crowd in the neighborhood. The struggles of life in the slums took a unique toll on every resident of the area. Lorian's poor upbringing and impoverished life caused him to seek security and control where he'd seen so many boys his age go. In his early teens, Lorian had joined a youthful gang, notorious for their robberies and assaults against women.
The night of the bar fight, Lorian's life took a turn for the worse. As he sat in the prison cell, his mother entered the prison. She pleaded desperately with the warden to release her son but she didn't have any money to pay his bail. The police commander felt no remorse for the pleading woman but saw an opportunity to satisfy his desires. The commander requested sexual favors from Lorian's mother in exchange for his release. With no other means and desperate for her son's freedom, his mother agreed.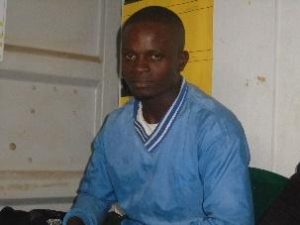 Upon his discharge, Lorian discovered the truth behind how he'd been set free. He harbored increasing bitterness against the police and denied all authority. Lorian began to justify all of his rebellious acts with this incident and his involvement with gang violence continued. He was disgusted by his mother's actions and hated her for what she'd done. Lorian was lost in his rebellious state as, the more he sought security and power, the less control he felt he had over his life. Lorian was purposeless and his wanderings produced no hope. It is in this state of depravity that Lorian was approached by a local pastor during a youth camp meeting.
The pastor of one of our local partner churches in Kibera shared the hope that Christ gives through his grace and mercy upon accepting him as your savior. Lorian was touched by the message of forgiveness, causing him to reflect on his own life of rebellion. Over time, he chose to forgive his mother for her immoral deeds and accept Jesus as the Lord of his life. Lorian became heavily involved with the local youth ministry and gradually began to change his ways. Lorian loved working with the youth in his community and longed to save other young men and women from the fate his life would have come to had God not intervened.
In church, Lorian had the opportunity to connect with people his age in fellowship. He began to channel his leadership skills toward sharing the gospel with other juveniles. Lorian decided to attend our Training of Trainers (TOT) in which locals are equipped to best serve their community in a sustainable way. The training inspired him to use his story and Scripture to reach his peers in Kibera. Lorian's radical transformation impacted his mother and she began to explore the source of change herself. Encouraged by her son, Lorian's mother gave her life to Christ.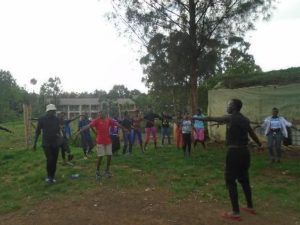 The county government of Kenya realized Lorian's potential for leadership and offered him a position as the head of the scouts club in Kibera. Lorian now uses this club as a platform to reach out and transform young lives for Christ. Lorian has made it possible for our partner churches to reach out to students in schools, children's homes, and charity organizations through which many have come to know Christ. Now at age 25, Lorian earns his living by making shoes and necklaces and uses his skills to train children to be scouts in school. He consistently organizes youth camps where young people can join together in joyful fellowship. When asked about his life, Lorian confidently responded, "I am living my life's purpose."