Dr. Florence Muindi stood on the stage at GMHC-Africa's 3rd annual conference in Nairobi, Kenya. There were people from all over the continent and the world. Dr. Muindi went down the list—calling out all the countries represented at GMHC-Africa. Then finally, she said, "We have a very special group of students who traveled overnight to be with us today! For the first time ever Burundi is represented at GMHC-Africa!" A contingent of 20 students from Burundi stood up to wave to the crowd as they were greeted with warm cheers.
We had always intended to take our Transformational Development Model to the nation of Burundi, and patiently waited for the timing and the season to be of the Lord. Civil unrest broke out in Burundi, and not many people knew what would become of it. There was a media blackout, people were fleeing, and the African Union was considering sending in troops to create stability.
It was during this time that the Burundi Christian Medical and Dental Association (CMDA) made a decision to move forward with their annual conference—one where Dr. Florence Muindi would be the headline speaker upon the recommendation of several medical students that had attended GMHC-Africa.
The conference was a wonderful time, full of energy and excitement from many of the attendees that felt the need to do more! They were motivated to use our Transformational Development Model in Burundi!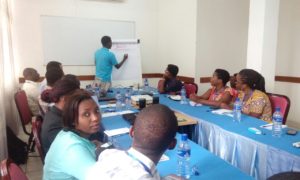 Not long after, our Africa Regional Director, Dr. Yared Mekonen, was able to visit this cohort of 20 medical students from Burundi and train them on how to implement our model to address the needs of the poor and vulnerable in Burundi.
The months that followed amazed us! One of the trainees, Dr. Alida, is now out of medical school and working with a pediatrician to give free treatment to an orphanage in the Burundi capital Bujumbura. Another, Dr. Carmen, has been gathering medical supplies and medicines for a center housing the poor and the elderly. Etienne has gone back to his hometown up-country and has mobilized the community to support high school students with school fees, school supplies, and tutoring to ensure that they graduate from high school! And Sarthiel now travels by bus 30 kilometers out of Bujumbura to serve and evangelize a pygmy community.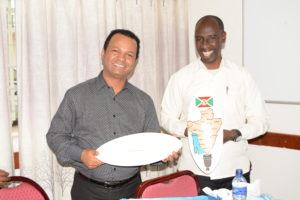 Under the mentorship of the Rwanda LIA Country Director Obadias, this group of 20 students meets twice a month to support each other, have fellowship, and most of all dream together about how they can continue to be salt and light to the poor and vulnerable in their communities.
Though we have yet to launch a country program in Burundi, it's clear that the Lord has gone before us and is preparing the way. The mission of GMHC-Africa is to see Africans arise and take the wholistic life-giving Gospel to the continent; We are honored to see this tangibly take place in Burundi.