Our hearts break at the sight of vulnerable and innocent children being corrupted by the actions of those caring for them. Six year-old Emmanuel showed us the painful impact of child abuse exposed in the impoverished Nyalenda community of Kenya, while also embodying the hope that the Lord has for all those He calls into his saving grace.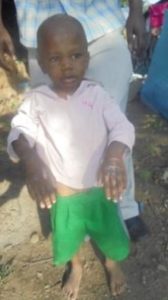 At a young age, Emmanuel's parents separated and, as is the custom, he and his older brother were sent to live with his father. When their father remarried, the torturous treatment of Emmanuel and his brother began. Their father was a boda boda driver (motorcycle taxi service) while the stepmother worked as a housekeeper. Each day before they went to work, Emmanuel's parents would handcuff him to their bed and forced his brother to work to help support the family. The children's homelife was a nightmare as they were denied food and education.
Underdeveloped and malnourished, the six year-old looked only the age of a three year-old. Other neighborhood children made it a habit of sneaking into Emmanuel's house to check in on his conditions to notify their parents. One of the parents living in the neighborhood who caught word of Emmanuel's story was a trained Community Health Evangelist (CHE) who was determined to make a change to save the children's lives.
The CHE quickly informed Irene, the church coordinator at Emmanuel Revival Church, of the devastating situation within the children's home. As one of our Kenyan partner churches, Emmanuel Revival Church was equipped to aid its community's most helpless and powerless residents. Through previous network connections with other partner churches, Irene and a group of CHE's were able to report the children's case to the Kisumu Urban Apostolate Program (KUAP) who immediately rescued the children from their home.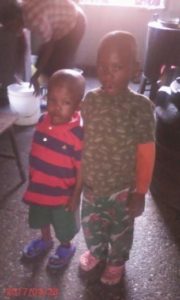 Both of the boys have been safely placed into Pandpieiri Children, a rehabilitation center. The center has an Early Childhood Development (ECD) program in which Emmanuel is able to interact with other children and progress despite his stunted development. The brothers are now enrolled in school and are well cared for. Following the assurance of the boys' safety, both their father and stepmother were taken into custody and charged with child abuse. Every two weeks, CHE's visit Emmanuel to check on his well being and pray with him.
Emmanuel, who was once helplessly chained in bondage, is now free to grow and play as a child. His contagious joy and aspiration to be a doctor exhibit how drastically God's work transforms lives.
Because of the generous donations and incredible support of our partners, we're able to encourage and empower churches like Emmanuel Revival Church to pursue the most marginalized and vulnerable people in their communities. Emmanuel and his brother have been transformed by the grace of God and given the opportunity to have life and have it in abundance! Please continue to pray with us, thanking the Lord for all He's done and asking Him to bring us more children like Emmanuel and his brother!