Amongst the most marginalized and vulnerable children and families that we encounter, we witness the devastating effects of physical and spiritual poverty. Here at LIA, we empower local churches in order to break this cycle of poverty and cultivate hope for members of the community. Sasai's story is a testament to the redemptive power the Lord has over desolate circumstance. As a widow in Ntulele, Kenya, Sasai was left to reside on her father's homestead. Following the death of her husband, she was left with six children to care for, three of which are mentally handicapped.
Although the hut that Sasai and her children were given to live in provided a means of shelter, it was in disastrous condition. The walls and roof of the home were constructed out of polythene paper which allowed leaks and the cold to invade the home. The health of Sasai and her children was constantly threatened by the instability of their hut.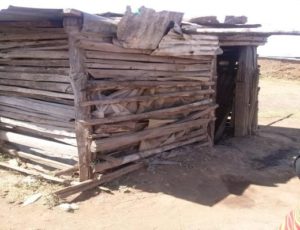 Feeling helpless and inadequate in her ability to support her family, Sasai was left questioning what she could possibly do to improve their conditions. A trained Community Health Evangelist (CHE) in the community sought to change Sasai's grim state and notified leaders of Full Gospel of Kenya, one of our partner churches in the area. Through the Orphans and Vulneranle Children (OVC) programming established in Ntulele, Full Gospel was able to aid Sasai and her family.
Through fundraising and financial empowerment, the church contributed 10,000 Kenyan shillings to the renovation of Sasai's home. Through our partnership with Full Gospel, the church was also able to provide the family with five goats. These animals give Sasai access to milk and a source of income to support her children. Full Gospel's assistance illustrated the love and care of Christ to other members of the community and, as a result, Sasai was given a new mattress and bedding by well-wishers who longed to mirror the church's compassion.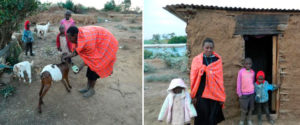 The renovated hut now provides the comfort and warmth of a secure home and Sasai's health has dramatically improved since the restoration. Sasai is now a part of the Guardians Group Project savings and loans program that's established in Ntulele through the church. By investing a small percentage of her income into the group fund, she is able to withdraw a loan in the hopes of eventually establishing a small business to generate consistent income to support her family. The group meets weekly as a means of accountability and support for one another.
Sasai was convinced there was no love in the world in her desperate and marginalized state. In response to the gracious assistance Full Gospel provided, she realized that God uses others to manifest his expressed love. We give thanks to the Lord for continuing His good work through us in serving some of the world's most vulnerable children and families. We encourage you to join is in prayer and giving in order that we may continue to see more stories of lasting transformation like Sasai's all across Africa and the Caribbean!