We met Beatrice (38) in 2015 desperate to provide for her family while living in a deteriorating home in Gihundwe Sector, Muhari Sub-County of Rwanda. With three daughters Glorioe (11), Jeanne (9), and Rachel (8) and her husband Denny imprisoned for life soon after their marriage in 2007, Beatrice struggled to make ends meet. Before he was taken, Denny was the sole provider for the household while Beatrice stayed home to care for the children. Her father-in-law worked to assist Beatrice and her family with his meager resources, but could not fully support them to meet their needs. With a primary school education, the only job Beatrice could manage was a low paying job digging for other people. Beatrice was isolated from cultivating relationships in her community within her desolate circumstances.
June of 2015 was when we first began our ministry in the Changugu district of Rwanda. After prayer walking the community and collaborating with local church leaders, we hosted a Training of Trainers (TOT) in August in order to empower and equip local leaders to initiate seed projects in the community in order to cultivate lasting transformation.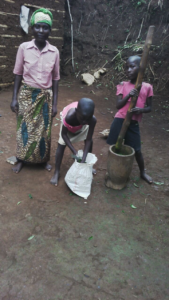 Mrs. Odette, a trained Community Health Evangelist (CHE), is a gracious result of the programming in this Rwandan community. Mrs. Odette connected us with Beatrice and became an advocate for her and her family. After seeing her needs, Mrs. Odette reported to the committee meeting and connected Beatrice with a local church. Members of The Assemblies of God Church had heavy hearts as they visited Beatrice and recognized the physical, mental, and spiritual poverty in which she abided.
In the midst of her hopelessness, Beatrice was moved beyond belief at the care and love the church team had for her. The 38-year old shared with the local members the intricacies of her struggles and explained that the biggest challenge was not being able to afford health insurance for herself or her children. Without health insurance, she was responsible for the entire expense of health care while, comparatively, health insurance would cover up to ninety percent of the expense. She then went on to say that, with a limited source of income, a domestic animal would be the greatest help in assisting her to provide food, clothing, and education for her daughters. With their home threatening to collapse, Beatrice's final concern was the stability of the house.
Our local community advocates sought to bring hope to Beatrice and her family. The Assemblies of God Church began by repairing Beatrice's collapsing home in order to ensure a structurally safe place her family to live. Through our financial empowerment of the local church, Assemblies of God was able to provide support for Beatrice to purchase health insurance for her and her children. Finally, the church supplied the family with a piglet in the hopes that it will yield future income as it grows and matures.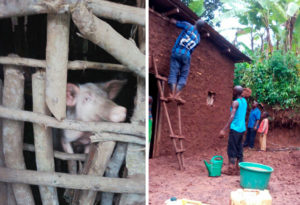 Beatrice now has the freedom to attend church and expand her community involvement as her family's basic needs are met. Given the freedom and agency to do so, Beatrice claimed ownership of the donated pig as her family's new source of income by supplying the tools and resources to build the pigsty and committing to its care.
Beatrice is strengthened in spirit and has renewed hope in her ability to manage and provide for her family. She is one of the many individuals directly impacted by God's work through our model. We hope to continue to empower the poorest and most vulnerable individuals in order to cultivate hope and lasting transformation.