Carley Buckingham joined the LIA team as the Director of Operations at the beginning of April.
She will be working closely with Tom Kemner. Carley is equipped with 15 years of finance, accounting, HR and leadership experience.
We asked Carley to share a bit about herself so you might get to know a bit more about her:
Tell us about your calling and conviction to serve the Kingdom. What were you doing before LIA?
I desire no other path than to serve the Kingdom vocationally, pastorally, and as I go daily. I met Jesus in the local church (Southeast Christian Church) at the age of 15 – baptized in the Gulf of Mexico at 17 and began a relentless pursuit of the purest desire to (1) Align with the Trinity (2) Walk as Jesus walked (3) Advance His Kingdom. Given His grace poured out over my life, I have deep love for alignment with the Trinity as well as the local church.
I called Southeast Christian Church my church home for ten years before serving as HR Director at SECC. To call one place home for an extended time, to meet Jesus there, to advance His Kingdom and to tangibly see the beauty of "one another"—it was a pure joy and delight.
Southeast is also where I met Life In Abundance. This is another of the good gifts and strategic gifts I received from Him hands!
What drew you to LIA?
While serving in HR at Southeast, I also provided oversight to our Internship Program. In 2008 we were in the process of reworking our internship experience, and wanted to add a missions component. I went to Ben Thornley who serves on the Missions team and simply confessed, "I know very little about missions, models, methods, etc., however the Leadership Team has been prayerful in overhauling the Internship experience and we would like to add a mission trip/mission experience to their year…" Within a matter of minutes Ben cast vision for a healthy missions model and recommended our Interns to see and experience the work of LIA boots-on-the-ground.
In February 2009 we embarked on our maiden voyage of inviting our interns annually to partner with the Lord and the work of LIA in Kenya – to date serving in 3 regions, Thika, Makueni and Kisumu.
The model the Lord has given Dr. Muindi is God-breathed. I've served on teams that entered communities that are new early in their transformational partnership with LIA, and I've served on teams where LIA is in the process of phasing out. I can testify to communities being transformed, hope being breathed, empowerment, sustainability, and the local church championed and Jesus reigning.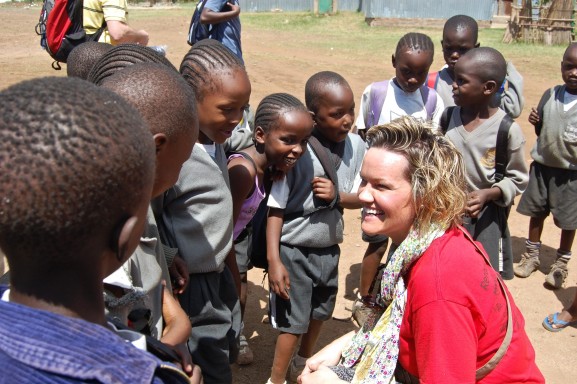 What are you most looking forward to in your role with LIA?
Where do I begin and how do I choose? I look forward to so many things. Firstly, partnering with the Lord as He builds the US team and expands it's capacity to serve the program staff. Secondly, telling the powerful and evolving story of LIA to those who have emotionally and spiritually invested in the ministry. Thirdly, casting vision and seeing the tent expand for LIA (Isaiah 54:2-3) in new terrain, partnerships, and communities transformed for His name and His renown. Finally, I am looking forward to being led and challenged in partnership by Dr. Muindi, our US Council and International Board – all striving diligently to carry out Christ's mission to give life in abundance to the most vulnerable.
What do you do other than lead operations for LIA?
Scott and I have just relocated to Jacksonville, FL. This move is what caused my transition from Southeast Christian Church and opened the door for the Lord to present this opportunity with LIA. With deep roots in Louisville, KY this upcoming season will be full of re-rooting in Jacksonville, FL as we call it home; connecting with family in the region, building community, finding a local church. The Lord opened 5,000 doors for Scott and I to make this move…now we'll root and build!