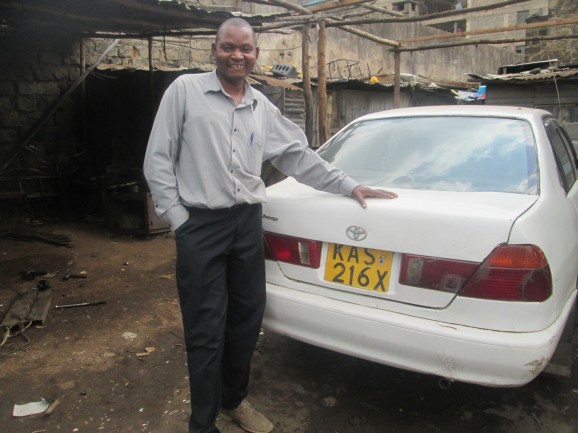 Pastor Emmanton Murage and his wife live and serve in the Mathare slums in Nairobi, Kenya. Though he believes that The Gospel is truth and life, Pastor Murage felt a burden to see the people in Mathare impacted in a sustainable way and knew there was something more that needed to be done. In 2011 he ran into one of LIA's project officers, and after hearing what LIA does he became convinced that LIA was what he and the community needed. He quickly joined the pastors' fellowship, which was established to be a space where pastors gather together to support one other and collectively work to transform Mathare.
After a year of working closely with LIA to implement transformational development for his church body and community, Emmanton began experiencing chronic pain. He went to the doctor to have some tests done and returned to the office a week later, hoping to get some medication that would help him manage the symptoms. When the doctor called Emmanton into his office, he didn't have medication or good news. Emmanton's pain was being caused by a brain tumor that would have to be operated on immediately.
The cost of surgery was enormous, especially considering the Murage family's income, but all of their family rallied behind them with no questions and they managed to meet the 500,000 KSh (just under $6,000) fee by selling most of their possessions. Pastor Murage had his surgery in March of 2012 and walked out of the hospital tumor free, with no complications to speak of. But upon arriving home, a new challenge awaited him – financial recovery for his family.
The hospital bills had depleted all of the Murage's savings and his wife was not bringing in much income, however Emmanton needed to get his family back up on their feet quickly, and was desperate to find additional sources of income. He leaned on his fellow pastors from the fellowship, who had begun a revolving fund with the help of LIA. After consulting his fellow members, Emmanton took out a loan to begin a small business that would supply eggs to local businesses and restaurants.
Pastor Murage worked very hard and his business has grown significantly since he borrowed from the revolving fund! He has been able to produce enough eggs for him to pay back the loan, open up a store front, afford a car for deliveries, and (probably his proudest accomplishment) put his oldest son through college. His wife began baking cakes with the surplus of eggs from the chickens and the couple is now delivering eggs and cakes all over the region. The Murage family's complete recovery and faith has inspired all of us at LIA, and we know that God will use their testimony and their businesses to continue to restore Mathare.