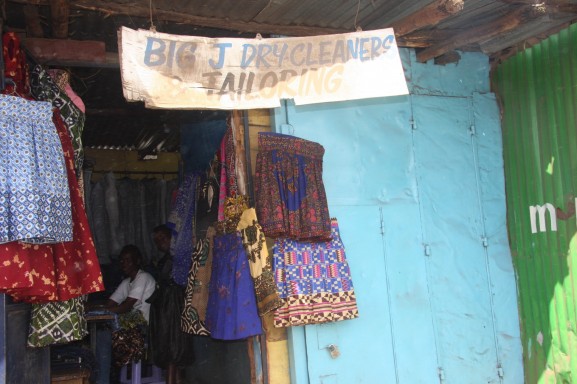 Olympic Road in Kibera is lined with kiosks and makeshift businesses. Everything from welding stalls, vegetable stands, saloons, thrift shops, to carpentry workshops can be found on this main vein of the settlement. The raging matatus and buzzing marketplaces can be overwhelming, but once the rules of the road are learned, the organized chaos is much more manageable.
Amongst the chaos of the Olympic Road stalls sits Lucy Adhiambo, a slender, shy mother of three who owns a small tailor shop. The dust from the carpenters shop next door has caked the sign that hangs over her business, making it easy to miss Big J Dry Cleaners and Tailoring. But Lucy's quietly vibrant spirit catches your attention.
This was not always the case. Before opening Big J, Lucy was a stay at home wife whose husband worked odd jobs to provide for the family. They had been together since she she became pregnant at age 13 and was forced to marry him. Nearly 12 years into their marriage her husband fell terribly ill as a result of contracting HIV. This prompted Lucy to go get tested, and she soon discovered that she was also positive for the virus. A year later her husband died.
Because they had been married for so long and he had always been the provider, Lucy felt that when her husbdan died, her life had also passed away with his. With no marketable skill set to for a job and no school fees for her children,  Lucy spiraled into a deep depression and even decided to stop taking her ARVs.
Pastor Godffrey of LIA partner church, St. John ACK, heard the news about Lucy and decided to visit her in her home. When he arrived, it was clear that her depression and refusal to take ARVs was taking a toll on her body. "She was so thin, and her health was failing her" he recalls.
After a lot of convincing, Lucy finally allowed Pastor Godffrey to start counseling her through her depression. "She just didn't know how to pick up and move on. All she had ever really known was how to be a good wife and a good mother, and now she had to become something more–a provider." In addition to the spiritual and emotional guidance he was providing, Godffrey also connected Lucy with the LIA clinic in Kibera so she would regain access to ARVs and receive regular checkups with a caring and godly staff.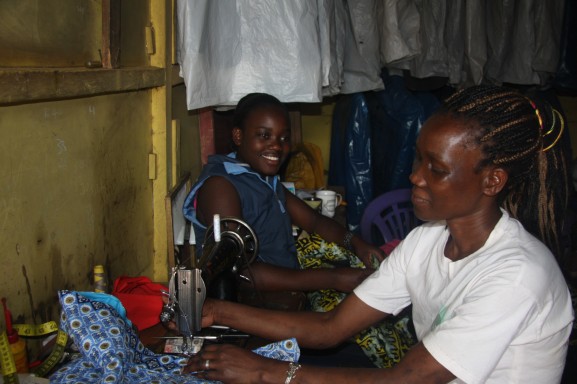 As her health improved and she became more involved in the church community, Lucy's hope for life, especially a life in Christ, became very strong. During a Training of Trainers (TOT) and skills seminar being held at St. John's, Lucy became very adamant that she wanted to learn tailoring. The church body was able to find a tailor that would take Lucy on as an apprentice, and in July of this past year she became a certified tailor.
Through the revolving fund group set up by LIA in partnership with St. John's, Lucy was then able to take out a loan and open up her own tailoring shop. A couple months later she had paid off the loan. Her business was steady, she was back to being healthy, the kids were back in school, and they even helped her with the shop. Silvia, Lucy's eldest, is often at the shop with mom, and even Maurine stops by when she doesn't have to babysit the youngest, Collins.
Silvia, a 17 year-old junior in high school, isn't sure if she wants to be a tailor when she grows up but she definitely enjoys working with her mother. This year Silvia will be prepping to take the Senior year exams that will get her into University and Lucy could not be more proud.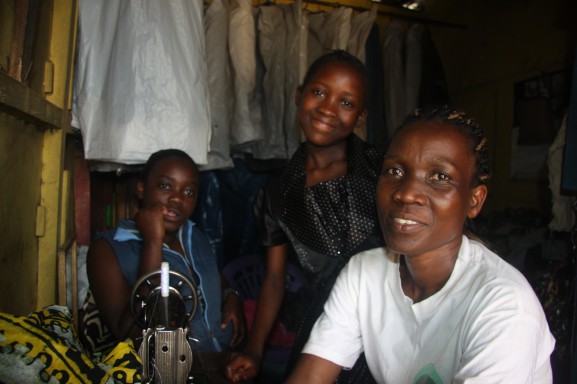 With great determination to pick up the shattered pieces of her life and make something new in Christ, Lucy has restored her family's health and safety, and she how radiates confidence. We are so honored to witness her transformation and play a role, alongside her church, in the restoration process.