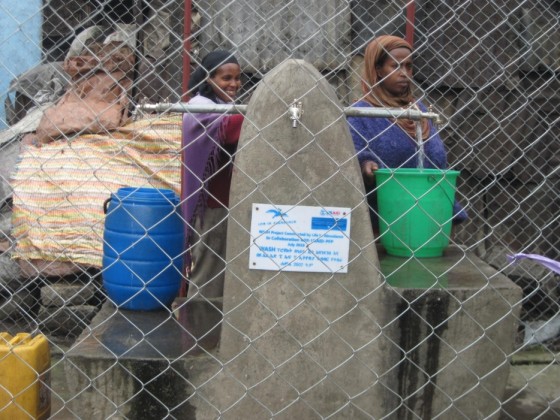 LIA has worked in Ethiopia for well over a decade and has implemented Water, Sanitation and Hygiene (WASH) programs throughout the country. These programs are critical in the nation where just under half of the population has access to an improved water supply, and only 21% of the population has access to adequate sanitation services*. LIA WASH programs in the capital of Addis Ababa have served upwards of 40,000 individuals with more than 40 public water points, 15 public showers, 10 washing basins, and 33 communal latrines. To date, more than 7,000 people have been trained on safe personal and hygiene practices, and 150 disadvantaged women have been empowered through garbage transportation trolleys which they use as small businesses. This is a brief look into how  LIA's two most recent WASH projects have restored dignity and sparked transformational development in the communities.
In 2010 the Ethiopian government had planned to demolish the settlements in the slum, sub-city of Kirkos, which rested in the shadow of the massive Addis Sheraton Hotel, in order to begin various construction projects for the city. This was the same year that LIA planned to begin a WASH program in order to improve the community's access to safe water and adequate sanitation facilities.  All construction was restricted by local authorities at that time, but LIA received special permission from the local government to begin building water points and sanitation stations with the warning that all of the work may be bulldozed in months.
By God's grace, over four years later, we have seen more than 100 households in the area gain access to clean water, latrines, and showers while we have been able to phase out as the community sustains the WASH program and facilities. Before the partnership, most residents would retrieve their water in the nearby river, which was awash with sewage and garbage from upstream. But thankfully, this project has greatly reduced the risk of communicable diseases in the Kirkos community.
Yohanes, former chairman of the community organization charged with overseeing the WASH program, explained that the facilitates were initially only available to those in the immediate neighborhood. Each household pays 10 cents for every use, and these funds are used to pay for cleaning and maintenance of the facilities, with overflow being invested into a community revolving fund for economic empowerment purposes. The community oversight committee, now chaired by Samuel, is currently working on installing water heaters for the showers. While all of this has benefited Kirkos, the committee felt it was important to open up the facility to the wider community, especially street children, and they have found ways to support those unable to pay.
The WASH facility supplies clean drinking water to the community, in addition to making the urban environment much more hygienic with the installations of latrines and absence of open sewers and disposable waste, for multiple families.
One of those families is that of Adinew Zeru, a 97-year-old man who greets you with a firm handshake but struggles with disabilities that serve as reminders of the many wars he has endured. Born in a sleepy town in southern Ethiopia called Negele Borena, Adinew and his family were forced to flee their beloved homeland when the town and surrounding areas became hotbeds of conflict during the Ogaden War (or the Ethiopian-Somali War) in the late 1970's. They sought out IDP government housing in Addis Ababa, but it was not enough for him, his wife, and their six children, so some of their children were placed in the care of friends and family around the city.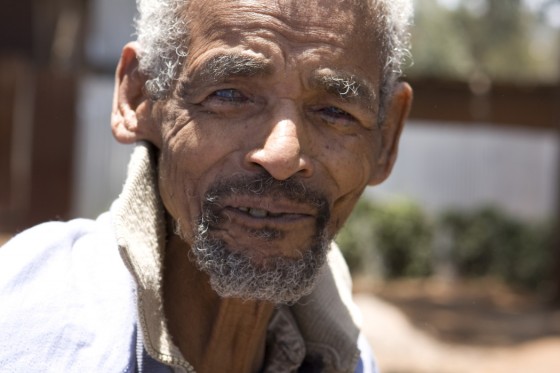 In 1998 the Eritrean-Ethiopian war invaded the lives of the Zeru Family, as their oldest son was recruited and sent to the North to fight. After a year they were unable to reach him and soon learned that he had been shot during his time of service and was receiving medical care. Soon after he contracted bone cancer and passed away, the shock of which took a great toll on Adinew. Mr. Zeru suffered serious nerve damage which greatly crippled him. Because there was no bathroom in his government issued home, and no public restrooms nearby, Adinew had to use the restroom in his home and have one of his younger children sneak out at night to dispose of it.
"This was a great shame for me" confessed Adinew. "Our neighbors would look down on us, and my children would be embarrassed."
When LIA first partnered with the Kirkos community and identified public bathrooms and waste management as a serious need within that community, it became apparent that handicap accessible bathroom stalls were sorely needed. This has helped restore honor and self-worth to Adinew, his family, and many others living in or around the community that is disabled and has been ostracized due to lack of access to the proper facilities.
"As silly as it may sound, I genuinely thank God every time I use that facility because now I finally have dignity. We lived in shame for far too long."
Now Adinew, his family, and hundreds of others like them, will never have to deal with that shame that they bore before because their community has taken ownership of a successful and sustainable WASH program.
LIA phased out of Kirkos at the end of 2012, delegating responsibilities to trained and empowered community members and the oversight committee. Since then, the opportunity to work with The Leprosy Mission on a WASH program in the Kolfe Keranyo Slum Community presented itself, and the construction of communal latrines, public shower blocks, communal water points, school latrines and waste water disposal ditches was soon under way. This project is aimed at serving a largely isolated community of lepers and their families, and ultimately an estimated 20,000 people will benefit from this integrated livelihood and slum development project. We look forward to telling stories of transformation from this newer WASH program in the near future!
*Source water.org