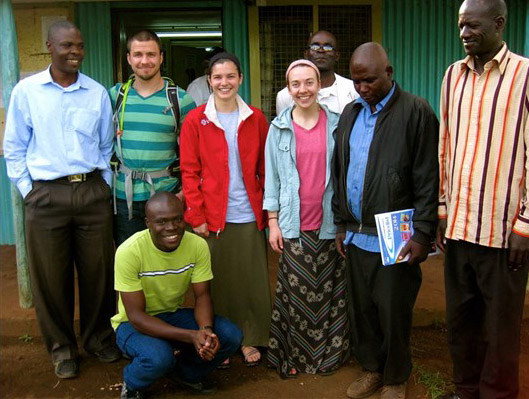 Ana Lossing is one of LIA's 2014 Mi2 interns, serving with us for three months in Kenya. Mi2 is a global internship program offering college students a unique three month experience of real-life missions and development in healthy and effective missions models.

Yesterday, we visited the medical clinic at Kibera slum, outside of Nairobi. Kibera is the largest slum in Africa, and possibly the largest in the world. At the clinic, they have Mother and Child Healthcare, a general medical clinic, a pharmacy, a lab, and dental services. The offer their services at a very minimum price, so the people in Kibera can afford it, but it can still be self-sustaining.
Life in Abundance (LIA) helps manage this clinic and partners with 13 pastors (4 of whom are pictured above) from Kibera to help holistically transform their communities.
How do they do this? LIA mainly works by mobilizing the local church, so these pastors are the ground people for this ministry. The pastors know their communities and the needs, so LIA works with them to help develop programs, and LIA equips them to mobilize their communities as well as their local resources in order to transform their own communities.
For example, one of the main projects in Kibera is the shoe project. The leaders in the church identified individuals that would benefit from this economic opportunity, and LIA, in partnership with the churches, brought in a person to train these individuals in shoe-making and helped connect the Kibera communities to where they could obtain the supplies. Now these individuals, and others that were taught by the first group of individuals, have expanded this opportunity, using the skills they learned to make many different kinds of products to sell.
Carole (who we work with at LIA) told us of one woman in Kibera who was caring for her 3 grandchildren. Not only was she living in poverty, but she suffered both emotionally and psychologically after losing her 3 children. She was identified by her church as someone who could benefit from this shoe project. In the beginning, she would not talk to anyone; she would come and do her work and then leave. But after just 2 weeks in this program, she began to talk to people; she was happier. She is now a successful business woman, and is even wealthy enough to move out of Kibera, but she has chosen to stay because she loves her community.
This is the kind of transformation that LIA works for: transformation of the whole person, of the whole community. And they want the community to own that transformation, to know that they were behind the renewal of their community. Furthermore, they want the local church to be returned to it's rightful place, the place it was intended to be, of being the engine behind community renewal and restoration, so that through his bride, Christ is glorified.
Please pray for a dental assistant, software that will allow easier recording of pharmacy services, and the ability to offer child delivery at the clinic.