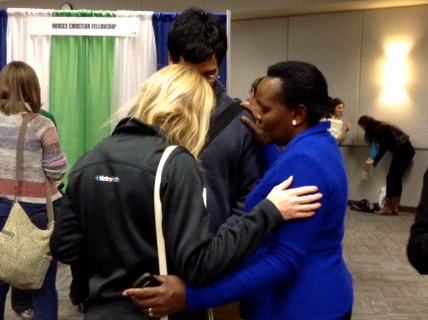 H* is an LIA supporter based in the States who was greatly impacted by Dr. Muindi's message at Courageous Faith. Below are her thoughts and takeaways from the event:
Several nights ago I had the blessing of attending the "Courageous Faith" event at Southeast Christian Church and hearing Dr. Florence Muindi share her personal testimony. As I listened I was truly struck by the incredible influence God has allowed Dr. Muindi to have on the world around her. I noticed that even those sitting with us at the event expressed respect and interest in the work of Dr. Muindi and LIA, even though some belong to a different faith. I feel sure that they will not easy forget what they heard that night about what Jesus can do in a person's heart and life.
As I drove home I really thought about the things she shared with us and how much I long to influence my world for Jesus, too. How do we become someone who draws people to Him? How do we become someone that God can work powerfully through? Here are a few things I thought of as I sat down and put thoughts to paper.
Humility. In all manner of speaking and actions, when we listen to Dr. Muindi we see a small woman with a great God. We see Jesus there – not a charismatic personality. We see Jesus because Dr. Muindi does not try and draw attention to her own accomplishments. When there is true humility Jesus has the opportunity to be seen and we are drawn to Him. When we truly see Jesus He is simply irresistible! How beautiful He is when it is He that is glorified!
Single Eye for Jesus. Jesus said we cannot serve two masters. In the West we are trying to serve Mammon and God and the result has been almost total loss of credibility and influence with non-believers. Jesus said "Narrow is the way that leads to life and few are those who find it." Only by giving up our lives do we find true life in Him. Dr. Muindi exemplifies this beautifully as she tells her story of total surrender to the will of God even when it was different from her own desires
True Compassion. One of my unbelieving friends has expressed to me how many Christians she has encountered that seemed to be very religious.  At first she was drawn to them because they knew a lot about the Bible and said their prayers but once she got to know them she was disappointed to discover that they really only  cared for themselves and their own families. She wanted to know why Christians were not more missional! This made me realize that the world notices my selfishness and is quite repulsed by it. The world does not really care how much I know my Bible or how perfect my theology is. I am NOT being a light or influencing  anyone unless I am truly compassionate and giving myself away to others.
Understanding of God's work through suffering.  I have decided that I will not let believers speak into my life that do not see a role of persecution or suffering as one way that God can work through us greatly.  "Indeed, all who wish to live a Godly life in Christ Jesus will be persecuted." ~2 Timothy 3:12
As Dr. Muindi candidly spoke about an experience of hers in North Sudan I had to hold my breath. That kind of experience is a great secret fear I have!  As I pursue God's call on my life to reach out in difficult areas of the world I have even asked the Lord to please spare me from that particular kind of suffering, although I have told Him I am willing to die for Him. However, as I heard this part of Dr. Muindi's testimony I realized deeply that I simply cannot put conditions on Christ. I want Christ and I want Him only.  Either He is worth everything or He is not. Either He is the treasure in the field or He is not.  If I am to limit what I am willing to do or not do, or to suffer or not to suffer, then I may limit the very thing I long for, which is His power perfected in me!
I end this note with an excerpt from Mother Theresa's book, which I am currently reading, and ties in so well. Mother Theresa is another person who earned the right to be heard with her service and humility.
"When our sisters were in Ceylon, a minister of state once told me something very surprising. He said, 'You know, Mother, I love Christ but I hate Christians.' So I asked him how that could be. He answered, 'Because Christians do not give us Christ'; they do not live their Christian lives to the fullest." Ghandi said something very similar; 'If Christians were to live their Christian lives to the fullest there would not be one Hindu left in India.' Isn't it very true? This love of Christ should urge us to spend ourselves without ceasing." ~ Mother Theresa
*Due to the nature of her work with individuals in sensitive countries, we have decided to withhold this supporter's name for security reasons.