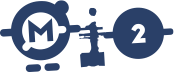 Are you LIA's next Mi2 Intern? Do you know of a college-age student who might be interested?
Every summer, a team of Mi2 interns serve with our staff in Kenya for three months. The Mi2 interns have the opportunity to serve in the field and explore their calling.
Mi2s will gain valuable experience in both their area of interest, as well as many other study areas.
Read more about the program (including schedule and costs) and access the application here. If you have questions about the program, contact Will Rogers at will@medicalmissions.com.
Note: the 2013 internship application deadline is fast approaching – Feb. 15, 2013!