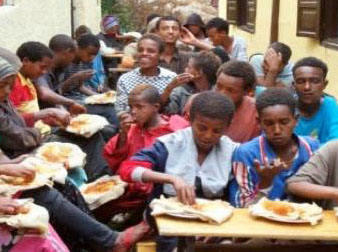 Less than 18 months ago, 200 youth and their families were hopeless. They spent their waking moments in search of physical sustenance. Now, they're physical needs are being met, their confidence and skills being raised, and they are beginning to look beyond tomorrow, for long-term (perhaps eternal) spiritual sustenance. What, in this world, is more rewarding then seeing the Kingdom come one step closer, one community at a time?
For more than a decade, LIA has pioneered its transformational development model in Ethiopia, specifically targeting homeless and at-risk youth, among other vulnerable groups.
This month marks the halfway point in one of those integrated programs, and we wanted to take pause to celebrate how far this community has come in such a short time!
In April 2011, LIA-led church partners in Arada, a slum area in Ethiopia's capital, Addis Ababa, began implementing initiatives aimed at meeting the needs of homeless children and those at risk of becoming homeless. LIA church partners set out to improve the living conditions of vulnerable youth and their families in a way that would transform their lives, not just in a physical way, but one that would forever change the direction of their lives.
Before we can truly understand the depth of an initiative like this, we need to understand the realities these youth and their community face daily:
In Ethiopia, 82% of the population survives on less than $1 US a day
More than 100,000 youth live on the streets of Addis Ababa, Ethiopia's capital
Though school is free in Ethiopia, parents cannot even provide food on the table, let alone school supplies, so more than 4.9 million teenagers don't go to school
Children might spend their entire day begging for money or scraps at merkato, a large open market – those few scraps might be the only food they eat all day
While most Americans use 575 liters of water each day for drinking, bathing, bathroom, etc., Ethiopians use less than 15 liters of water for all their needs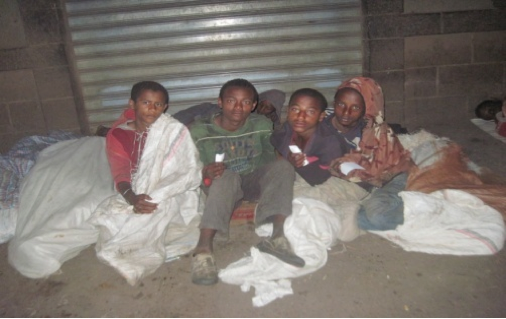 Because the reality is so significant and dire, it is imperative that a multi-faceted solution is implemented – one that requires community ownership. For that reason, as with all LIA-led initiatives, the program launched with a training and envisioning session for more than 30 church, community and local government leaders, to help everyone grasp the magnitude and severity, and to help facilitate potential solutions.
Then, the community leaders selected the 200 youth participants – 50 of those who lived on the streets exclusively, and 150 who were in such volatile circumstances that they too were close to becoming homeless. Over the last year, these youth have received food, health care, clothing, education materials and shelter. For many of the homeless youth, it had been years since they slept warm in a blanket under a roof.
The community, in partnership with LIA, also established a "drop-in" center where youth could come to engage with one another in a healthy way through activities, studying, counseling and tutoring. This effort was to avert unhealthy behaviors like crime and addictions.
Learning from similar projects LIA has implemented throughout Addis Ababa over the past several years, LIA has refined the process and is now able to excel its project implementation in a more organized and participatory manner. This means that the process of true transformation is accelerated for these youth!
Better yet, LIA's efforts to equip local leadership in the area have spurred other non-profits and community-based organizations to implement similar programs, replicating and multiplying the long-term impact in the community.
It doesn't stop there – over the next 18 months, LIA will continue to help implement these integrated programs with the Arada church partners, so that the transformations we are beginning to see now can fully take root and the community is changed for the long-term.
This work wouldn't be possible without your support. Join LIA in this transformational development work in Arada, Ethiopia, and considering giving to support the second half of the program.