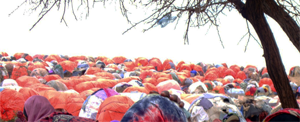 Somalia is a country that faces some of the most dynamic struggles today. Daily, they encounter political, religious and illegal conflict. Thousands of people flee their homes and end up in refugee camps – communities of make-shift shelters and people who are equally broken. To make matters worse, these people face extreme weather contrasts from the heat of the desert landscape to the extreme rainy seasons. Lack of food and clean water quickly lead to decreased health in these communities.
In speaking with the local leaders* and government officials in one particular Somalia community where LIA serves, it was soon realized that in order to implement any sustainable development initiatives, basic, pressing needs must be met for these people. Through conversations with local leaders and observations of current living conditions, it was clear that shelter – the kind that would protect them from rain and other environmental factors – was critical.
In this camp, refugee families essentially created tents, made from sewn-together clothing and branches, that would house up to 10 people. These make-shift shelters did not provide any protection during the rainy season, leaving the members of this community with poor personal hygiene and regular exposure to illnesses. Many have actually died from preventable disease, as a result.
With the support of many valued LIA partners, a plan was put in place to provide shelters to ALL of the more than 4,000 families living in this particular refugee camp. Over the next few weeks, LIA worked with local leadership to devise a distribution plan that required the community to elect leaders from within to oversee distribution of durable tarps. These leaders were then responsible for carrying out the distribution, with LIA and government leadership in support.
In an organized and systematic process, all of the tarps were handed out to the heads of each household – some as old as 80, some as young as 10 years. The reaction was immediate. Many of these people were able to see glimpses of hope for the first time. In fact, small groups of individuals sat down in prayer after being handed their tarp, rather than returning home.
The local leadership and LIA staff then helped families install their tarps so that they may be protected from the pending rainy season.
It is this basic meeting of needs that is necessary to lay the framework for true transformational development. By helping to ensure the safety of this community, while doing it in a manner that empowers the community (walking with the community, rather than simply doing for them), LIA and its local partners are taking the first steps toward true transformation.
We look forward to the months and years ahead, as we mobilize these communities to restore health, renew hope and inspire lasting transformation for Africa's most vulnerable children and families.
*LIA's local partners are intentionally not mentioned in this post