With so many programs in progress and growth all around for Life In Abundance, we wanted to be sure to share with you some of the highlights, and at times, the plights experienced by the communities we serve. God is good and faithful!
Periodically, we're asking members of our African teams to provides us updates from the field. We hope that you will find the stories they share to be inspirational and even educational. These people will surely move your heart.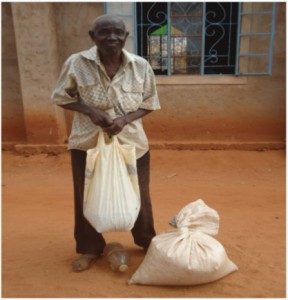 The first of these stories (below) comes from Augustine Muema, our Kenya Partnership & Resources Manager.
Enjoy! We encourage you to leave comments or questions about the story – we will do our best to provide answers whenever possible.
Kamba Men Never Beg
"I am very happy that today I received this donation and tonight I will be able to sleep very well," Mutunga commented after receiving the maize and beans food portion.
The sight of the only man among a half-filled church with women was peculiar. This was especially rare because it was a relief food distribution event. So we stepped out to Pastor Kilonzi who was calling out names for those that were receiving the food portions and confirmed that Mutunga Itias, a sullen 99-year-old man, was actually on the list.
For the last two years, rains have failed in Makueni county, part of lower Eastern Kenya. The situation is so dire that the government has declared hunger a national disaster. In response, the local churches, in partnership with LIA Kenya, are working to serve the immediate needs of 300 families each month – providing sustenance in the form of maize, beans and soya milk.
Mutunga, married to one wife and father to three sons, came to Kiangini in 1961. In his prime years he used to sell cattle, but as he aged, he opted to harvest tobacco and green peas, two rain-fed crops. The significant lack of rain has dealt a great blow to him. So severe, that he defies his Kamba culture's view of a man (married, with sons and in his old age) and 'stoops' low to beg for food in a church filled with women. The Kamba have a saying that one sleeps in the impossible place, one where they would normally never sleep, only because it's gotten dark. For Mutunga, it must be really dark or else a Kamba man would never beg for food.
"My income is not able to sustain me and my family. l only get 200 shillings per month from my sons who work as house helps in another area. Despite my frequent malaria bouts, l usually seek food loans from the shops in order to care for the family's basic needs. Some times l sell seeds for feeding goats which grow from a tree in my compound."
During particularly hard times, he has cut down most trees in his compound to be turned into charcoal or house frames. Four years ago, he ventured into planting a few banana stocks to see if they could be harvested and add to his financial resource, to no avail.
Matunga's access to aid is scarce. The food-for-work program only benefits the able-bodied community members. Other nonprofit programs that were distributing relief food in the area ended their programs before the year long drought was over. Thus the very elderly, sickly and orphaned children have been left out.
Furthermore, Mutunga is rumored to be a witch and the community fears, shuns and excludes witch doctors. It is families of this kind that the Kiangini AIC church committee, an LIA partner, selected to receive relief food. Despite the rumors, local leadership at the church reached out of love to Mutunga and his wife, Rose. We know the Lord loves him.
Who will reach the community rejects, the socially excluded, the voiceless? Who will show them love, a love that transforms them to defy shame and throw off the binding shackles to poverty?  Whom will we send? The church must respond, because Christ commands us to give to the hungry (Mathew 25) and because we are called to love others and not to judge them, especially in their need.