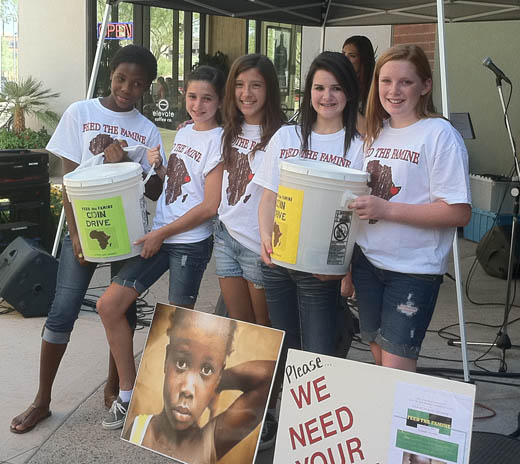 Early this month, LIA was invited to participate in Feed the Famine. A group of dynamic and inspiring women in Phoenix put together this multi-faceted event aimed at raising awareness about the crisis in East Africa, and to raise funds for organizations that are doing something about it.
Fortunately, LIA was selected as one of the beneficiaries of the event! On a warm Saturday in Arizona, we headed out to join the Feed the Famine volunteers in their efforts.
It was a day filled with worship, fellowship, education and inspiration. What was most evident at the event were the hearts and passion of the volunteers. We were inspired by their vision, ambition and love for those that they have never even met. One story, in particular, captured our hearts:
Denise Wright walked up to the event with five young girls (elementary and middle school-aged) at her side. Each girl carried her own bucket she'd used to collect change for the Horn of Africa. After speaking with us briefly, the girls went to turn in their heavy buckets and to enjoy the festivities.
As they walked away, we reflected on how encouraging it is to see today's youth engaged in work that will help improve the quality of life for others in the future. What an inspiring tale – five enlightened young ladies, moved by a need for action, taking time out of their lives to recruit involvement from their friends, family, peers and teachers.
A few minutes later, we heard an announcement come over the speaker, recognizing the young women for their contribution to the event. In just two short weeks, they raised more than $3,000! Needless to say, we were, and continue to be blown away by these young women.
Arvrissa, Randi, Janae, Brenna, Shayna and Bethany – thank you! Keep following the Lord's call for your lives and you will achieve great things, we're sure of it.