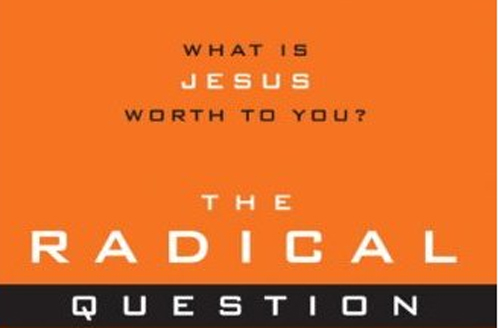 Guest Blog Post by: Jeremy Jernigan


I recently finished David Platt's book, Radical. I went into reading it with much fanfare and hype. To make it more fun, and to ensure a healthy conversation flowed from the book, I invited my small group to read it with me and discuss it for five weeks.
Let me begin with a disclaimer: I am the Worship Arts Pastor at a megachurch in America. I'm not a missionary and I haven't sold everything I own to give to the poor. My perspective comes from this point of view.
What was immediately intriguing to me is how many of the people I talked with quickly wrote Platt off as "out there." Obviously, the title of the book sets you up for something of this nature, but they quickly surmised that his call was for us to move abroad and sell everything off.
Maybe my tolerance for "out there" people is higher in that I read theological ideas from guys like Brian McLaren, and socialistic ideas from guys like Shane Claiborne, and David Platt just doesn't seem to fit into the same category.
I found myself repeatedly bringing up the fact that Platt is still a pastor of a megachurch in America, yet it seemed to be drowned out by the perception. I think this is unfair. Platt repeatedly explains that he doesn't have a one-size-fits-all solution for the reader. Instead he is trying to argue that regardless of where you live and what you do for a living, if you call yourself a Christian you must have a heart for the nations equal to any missionary out there. He argues this powerfully when he states:
"As we have seen all over Scripture, God's heart is for the world. So when we say we have a heart for the United States, we are admitting that we have a meager 5 percent of God's heart, and we are proud of it. When we say we have a heart for the city we live in, we confess that we have less than 1 percent of God's heart… We have created the idea that if you have a heart for the world and you are passionate about global mission, then you move overseas. But if you have a heart for the United States and you are not passionate about global mission, then you stay here and support those who go. Meanwhile, flying right in the face of this idea is Scripture's claim that regardless of where we live—here or overseas—our hearts should be consumed with making the glory of God known in all nations."
Candidly, there are things that Platt argues in Radical that are certainly a bit offensive to the church at first blush. Consider this comparison:
"So what is the difference between someone who willfully indulges in sexual pleasures while ignoring the Bible on moral purity and someone who willfully indulges in the selfish pursuit of more and more material possessions while ignoring the Bible on caring for the poor? The difference is that one involves a social taboo in the church and the other involves the social norm in the church."
I think statements like this need to be taken in light of the fact that when he speaks of the church, he is a part of the church that he is referring to. Someone living overseas would not be able to write this book the way Platt is able to. As the expression goes, true friends stab you in the front. I think that we as the church must be willing to wrestle with questions like these and allow God's Spirit to speak to us. We don't need to jump to any hasty decisions but we must always be listening and then be ready to obey.
Ironically, the biggest disagreements I had with the book were the moments when his perspective sounded overly Calvinistic. Since this is a minor disagreement (over a non-essential), I can heartily recommend the book and the primary challenge that he lays out.
In the closing section of the book he reiterates what he's been saying and clearly communicates what he's not saying.
"The challenge before us, then, is to use the freedoms, resources, and opportunities God has entrusted to us for his purpose in the world, all the while remaining careful not to embrace ideas, values, and assumptions that contradict what God has said in his Word."
If that is radical to us, then something is wrong with our church.
This post is provided by guest blogger Jeremy Jernigan from Central Christian Church in Arizona. We're grateful to Jeremy for sharing his insight and reflection from Radical, a book that has been widely read and discussed among Christians in America. If you would like to to connect with Jeremy, please take a moment check out his blog. Any ideas and opinions expressed are exclusively his own.