It was 5 am. I opened my eyes and looked up from my resting position, which just so happened to be the floor under the LIA merch table at St. Timothy's Catholic Community. I sat up to see fifty youth hustle into the conference room. This group of groggy teens had gotten less sleep than I had. While I wimped out and chose to sleep on the floor inside, these fifty junior high and high school students chose to sleep outside on the cold pavement of the church's parking lot. After taking their seats and warming up a bit, Saint Timothy's youth pastor Kate Hursh took the stage and simply asked, "What did you learn?"
The response moved me to tears.
The purpose of this all night "Breaking the Cycle" event was to learn about the issue of street children in Africa, as well as give insight into the cycles that perpetuate poverty.  The twelve-hour itinerary included activities such as: a live performance by the talented Ike Ndolo Band, writing letters to Senator McCain, a bean and rice dinner, a four-square tournament, a speech from LIA's Director of Partnerships and Resources, Justin Narducci, and screenings of both LIA documentaries "This is My Home" and  "This is My Normal."
The capstone of "Breaking the Cycle" was when Hursh  and her students dragged their sleeping bags outside to sleep "in the streets" (their church parking lot) for a three hour simulation. It was a simulation set to give just a mere glimpse of what it's like for the 50,000 children that sleep on the streets in Addis Ababa, Ethiopia – every night.
It was about 5 am on a Sunday morning, yet despite the long night of little sleep, the youth that surrounded me were thinking critically and challenging one another. As Kate Hursh led the group in a debrief discussion before they returned home, I was moved by the responses of the pre-teens and teens.  Some of the youth responded by explaining that they had been humbled, realizing how much they take for granted in their own lives. Others responded by explaining how they didn't originally want to come, and now were so glad that they did. Whereas others still responded with a desire to do and learn more.
"We need to stop this," one student explained. "There are those living in poverty in Africa and in Phoenix. How do we help them?"
I saw a transformation of mindset by the youth at Breaking the Cycle and it was downright inspiring. It inspired me to watch young teens come to a profound realization – there are things that need to change in this world and in their own local community and they can be those sparks that initiate it.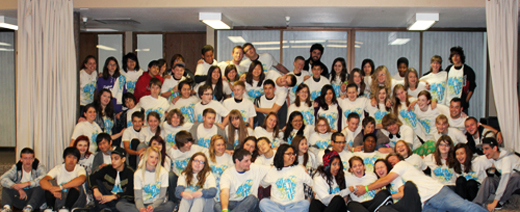 This post is provided by guest blogger and LIA events coordinator, Jessica Ruf. Send Jessica an email at info@lifeinabundance.org if you are interested in hosting a Breaking the Cycle event with your youth group.