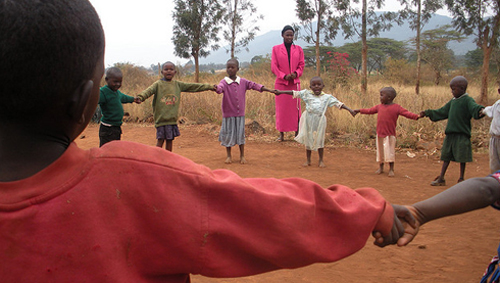 As the world focuses on the turmoil in Libya right now, I can't help but to be reminded of the faithfulness, righteousness and deliverance of our God, His way- His time! We would love to ask why, explain what is happening, and even predict the outcome, however we would best look to God and trust that He is at work now as always has been.

In John 9, the disciples ask Jesus the cause of blindness for the man they have come across. Jesus responds that his blindness is not a result of his nor his parents' sins, but his condition happened such 'that the works of God might be displayed in him' (John 9:3).
We may not fully understand why, but we are seeing His displayed Glory in the nations, His marvelous deed among the people (Ps 96:3). God's deliverance that brought sight to a blind man many years ago is penetrating some of the world's darkest corners today.
Consider the following:
–    South Sudan successfully came through the referendum process and will officially become independent in July 2011! This is truly a miracle.
–    Egypt has rapidly moved from an uprising to a change in power that many never thought possible.
Join us as we continue to pray, especially focusing on the countries where LIA serves.
In the past few weeks, thousands of Somali refugees have poured into Kenya as a result of drought and persistent instability in their country. They join thousands in Kenya who are hungry and malnourished because of poor rains this harvest season.
In Eritrea, personal testimony after testimony confirm that the believers face intense and real persecution as a result of their faithful commitment to the Gospel.
Please, as you pause to pray with the LIA family throughout the globe, pray that these situations will be transformed, 'that the works of God might be done' to those who are held in captivity by their circumstances.
We know that Jesus then made mud with His saliva, put it on the man's eyes and sent the man to wash and he came back healed. In prayer lest carry the burden of our brothers and sisters who hurt today, trusting them to our God who can turn their situations around dramatically, as He has already begun to do in Sudan and Egypt.
We commit these vulnerable brothers and sisters to God, knowing that He can do immeasurably more than we can ask or imagine. At the same time, we trust that by Him going before us, the work of our hands in this ministry will be multiplied exponentially.
Thank you for joining LIA in prayer before the King today.