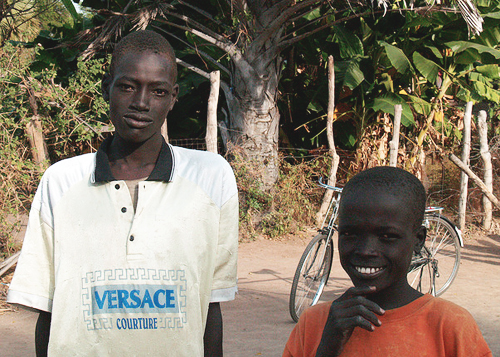 I write to you having just returned from a sweet but emotional time in Khartoum, Sudan.
Many years ago, God commissioned LIA to serve the displaced people in the north by showing us their destitute status as they camped in mass on the outskirts of Khartoum with no means to meet basic needs. Now, several years later, our ministry has matured and we have graduated several communities. We are also joyfully seeing the chance for these people to return home.

As I spent time in the north, I began to witness the beginning of the exodus, as people began to return to the south after having left nearly 20 years ago. These formerly displaced people are finally able to return home, but not without great trial. They have sold their meager homes for next to nothing, packed their belongings, and headed out in groups. They stay in make-shift camps in the open, waiting for organized trucks to come pick them for a four hour trip to a small town at the bank of the Nile.  From there, transport to the south is being organized, and about six thousand people are camped there waiting for their turn to travel by steamers for about a week.
They will eventually get to Juba, and then make their way to their villages. This exodus is expected to escalate and continue through July when independence will be celebrated. The joy of reunions and of sharing stories of survival in exile is flickering in communities all over the south.
Simon is just one example of someone greatly anticipating his return home.
Simon serves with the LIA North Sudan team in Khartoum. He came to the north to escape war in the south 20 years ago, and he recalls how as a young man, he was separated from his family, relatives, and home.
Simon's years as a person internally displaced have not been easy.  He has known uncertainty and loneliness, lived in camps and faced insecurity. But, he is thankful that the time he longed and dreamt about has come at last. He is alive to see this exodus event, and he shared his eager anticipation and hope in retuning to the south.
He says, "I left alone, with no education and little knowledge as far as scripture is concerned. But God has been with me. I am retuning as an ordained minister and with a wife. I have known who God is and his faithfulness has grown my faith. I have gained much in scripture knowledge and even planted a church among the displaced in the north. I have completed bible school and finalized long distance learning. The best was the training I received from LIA. It brought healing to me, transformed me and taught me a way of ministry that is the model of Jesus. I have found my passion and I am going to the south to engage in this ministry to transform not only those that we left behind but those that  are returning. Just today, I talked to my step brother over the phone. He had to help me recall him. He was a boy when he left and I have not seen him for these 20 years. He has been living in Uganda and he arrived back to our village this week with a wife and children."
Please pray with us for:
•    The returnees to have joy and give glory to God as they return, but also that they may have peace and comfort as there will be surprises and mourning when stories are shared of those who did not make it.
•    LIA to be able to be responsive and effective in glorifying God in this unique new environment in both North and South Sudan.
•    For resources to be provided so we may be able to respond to needs of the people and the work in both North and South Sudan.