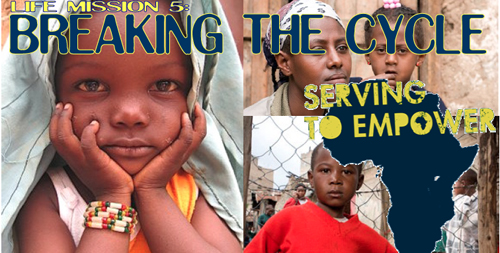 In Addis Ababa, Ethiopia alone 60,000 children sleep on the streets each night.
On April 9th youth from the Mesa, Arizona region will gather together to learn about and respond to the high prevalence of children forced to call the Ethiopian streets their home.
"Breaking the Cycle" will be held at St. Timothy's Catholic Community Church from 7pm on April 9th until 7am on April 10th..
During "Breaking the Cycle" students will hear from LIA director Justin Narducci, watch "This Is My Home" a Life in Abundance film, listen to a live performance by Ike Ndolo Band and sleep on the 'streets', in solidarity for the children of Ethiopia.
If you are local to the Mesa area, you certainly do not want to miss this informational and perspective shifting evening.
Cost to attend is $30
Tickets will include:
–  Admittance to event
–  Dinner
–  LIA T-Shirt
–  Documentary screening of 'This is My Home'
–  Live Performance from Ike Ndolo Band
–  And much, much more!
Join our promotion events through the Breaking the Cycle Facebook Event Page!
For further information or would like to help promote this event please email jessica@lifeinabundance.org
We hope to see you there!