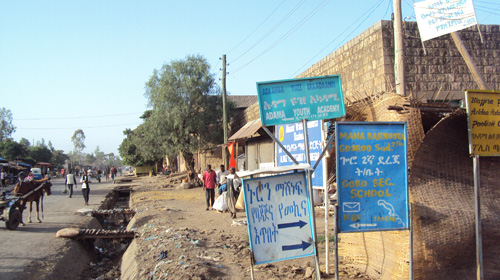 It is seemingly beautiful when communities collide. When people are connected from various parts of the world to learn, encourage and inspire one another.
Below is a post from Sarah Ulrich a former member of the Cedar Ridge Christian Church youth group.  Sarah and six other students traveled to Nazaret, Ethiopia in the summer of 2009, yet their passion to serve and stay connected to this community and the people they met has only grown with time. Read below to see an inspirational group of youth banding together to serve the world around them in unique ways.
______
"Our youth group at Cedar Ridge Christian Church (CRRC) in Broken Arrow, Oklahoma has been supporting a church in Nazaret, Ethiopia through Life In Abundance International (www.lifeinabundance.org). We have come up with many ways to partner and advocate for what God is doing there.  One of our most beneficial events that happened recently was our "Impact Africa Luncheon". There was much hard work that went into organizing this event, but the teamwork and passion behind the cause made it an absolute success. The students of our youth group each had  different tasks for the luncheon; some serving food, some selling t-shirts and even some playing music. Not only was this a great fundraiser but we all had a blast working together and making every situation a fun one.
It would be one thing to say that we just raised money for a church in one community in Ethiopia, but it's definitely another thing when I say we have incredible students in our youth group who are passionate about helping people half way across the world. When talking with a few members of our youth group, I could see this passion through every word spoken.
"I just feel so joyful and happy when I hear Kyle (our youth minister) say how much money we've raised and where it's going to," said one of the students that attends the CRCC youth group.
"I'm so eager to get out there and make a difference in another country." Another student said, "I put so much energy into it because I love that feeling when you know you're helping someone out. It really puts things into perspective."
Over the past couple of years, our youth group has raised $37,000 for our church partner in Ethiopia through several different fundraisers. This money has been used to glorify God through LIA. God has given us our money and talents and I speak for the whole youth group when I say we wouldn't want to spend them on anything other than what we're doing in Ethiopia."
Check out our get involved page or email us at info@lifeinabundance.org to hear about ways you and your local community can get involved with our ministry!