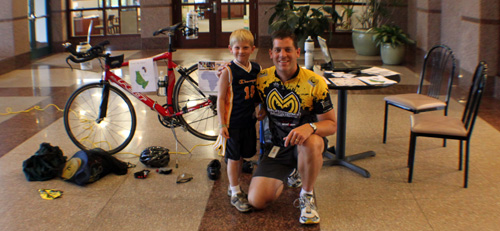 A passionate heart is contagious.
This statement proves to be true time and time again as we witness, you, our partners and supporters diligently and passionately serving the ministry of LIA within the realms of your social circles.
Recently we have started a new tool to further engage local communities in our ministry, while also raising funds for unique and specific programs in communities LIA serves.
Jonathan Smith from Chicago, IL has recently taken on the task of creating one of our new fund-raising  DonorPages. Long time triathlon participant and official Multi-sport Athlete, Jonathan decided to use the 28th Annual Chicago Triathlon (officially the world's largest event of its kind) to support former street children in Jimma, Ethiopia.
Through DonorPages Jonathan was able to promote this fund-raising site to his family, friends, co-workers and community, raising funds specifically for the boys that have recently graduated the street children rehabilitation program in Jimma.
Thirty-seven boys from the program have been trained in particular skills, ranging from hair cutting, tailoring, and baking to electrical maintenance.
$5,000 was the goal to be raised through this event.  This amount would cover the cost of several storage units in which the boys could use to store supplies for their new businesses or to operate their business from.
Jonathan used creative means to promote the cause such as creating business card handouts, info sheets, direct email updates and even promoted the event in the lobby of this office building, sharing with those passing by about the work of LIA and the opportunity to respond.
"LIA made it easy to set setup and use the pages. I simply shared the story of how LIA is changing lives through the Ministry of the local churches in Africa and shared the link for those who wish to contribute. I shared the story and link on the donor pages, hard copy media with tear off link, business cards and other handouts." Jonathan commented.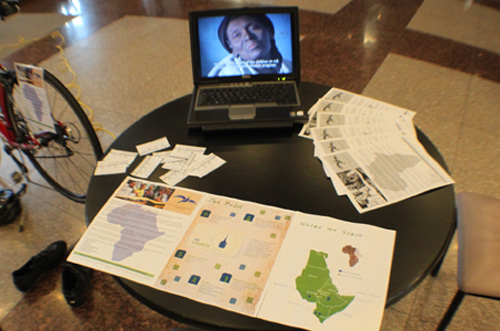 Through extensive promoting the project is over 75% funded!
There is still about $1,000 to be raised in order to fully support this initiative in Jimma, allowing the boys to have a means for a sustainable income and future outside of the program. Will you considering joining us today as we seek to raise the remaining $1,000, any amount will help!
Follow this link to Jonathan's DonorPage to partner with this cause today!
"If I have learned anything from the world of Triathlon's it is that I cannot do these alone.  Without the support and encouragement of my wife, children, family and friends I would not be able to be as dedicated and successful in these endeavors.  It is my hope that again you would join me as together we can impact and empower something larger than our local community!"
Also, if you are interested in representing LIA in your own local community in a unique way email us at info@lifeinabundance.org to learn more about our fund-raising DonorPages.