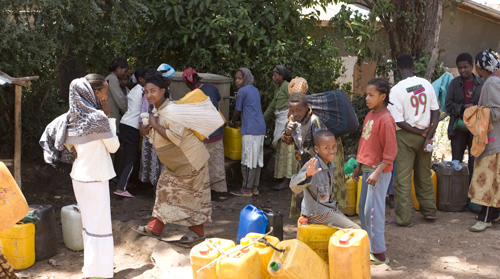 It is with great excitement we share with you an update from our water and sanitation initiatives in Addis Ababa, Ethiopia!
Come October, we will have completed the first of the three years projected for this initiative.  Working with People for People and USAID, the key objective of the project is to reduce communicable diseases caused by the lack of clean water and sanitation practices.  The goal is to reduce these diseases by 80% and improve the quality of life for 3,200 households in the community.
Our wholistic and integrated model is the foundation of the program.  The local churches have been equipped to supervise the construction of latrines, water pipes and public showers, as well as to empower local community participants.
Furthermore, we have already graduated more than 50 community health evangelists/educators (CHE) from our local church partners, who will be responsible for the preventative aspects of the program in the community.
We ask that you join us this morning as we reflect on the provision of the Lord in this large undertaking.  We sing great praise for the work that has come to pass thus far!
Please pray that the beneficiaries of the community in Addis Ababa would continue to be impacted through this initiative and that they may see a change that is both direct and sustainable.
As we grow in partnership with USAID through this project we ask that you pray for our continued commitment to the Lord and His plan set for our ministry in Addis Ababa specifically.  Also, as we grow in capacity to manage the WASH Project, we are praising the Lord and asking that he continue to work through each of our staff and local church volunteers, that we may stay true to His mission, vision and purpose for LIA.