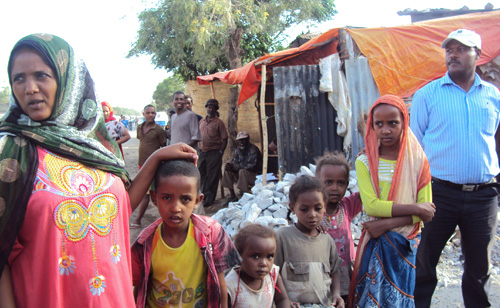 FACT: It is estimated that over 150,000 children live on the streets in Ethiopia.
It can be a humbling moment when realities clash.  When you realize that how you have come to understand the world around you may be very different than others.  When you see elements of, and comforts in your daily life that are taken for granted, until you realize your projected "norms" are far from even conceptualizing for others.
This is what struck me most while driving through the streets of Nazaret, Ethiopia at dusk.
In this peri-urban community, the prevalence of street children is more than apparent.  Pitched tents serving as makeshift dwellings lined the walls of buildings.  Clusters of youthful people claiming various areas of the ground as theirs for the evening.  As the sun was rapidly setting, the neighborhood was quickly being constructed, growing in numbers, and taking on a different make up than that of the night before.  There were some people that seemed to have been embedded in this street community for awhile, greeting those as they walked by, whereas others, after claiming their spot, shut off from the world in their tattered shelter.
It is estimated that there are about 6,000 children that make up this sub-culture, street life community in Nazaret.  We have said it, and I had heard it before, the draw to the city is the believed booming job market and the opportunity to make a better life for them or the family they have left in the rural countryside.  However, upon entering the city many find that their glorified image of urban life holds a grim reality.  In order to survive, many children join with others who have experienced the same crushed dreams and are thrown into a daily cycle of physical and sexual harassment, exploitation, drugs, and feelings of hopelessness.
Having an opportunity to meet with three local government officials that have dedicated their time to understand and combat the prevalence of children ending up on the streets in Nazaret, it was the complexity of this situation that served as the most heart wrenching element.
No two child's story is exactly the same, though the factors that lead these children to street life may be similar.  Like stated before, some children have come to find work, others however have lost both their parents and are forced to now provide for themselves, some have left abusive households and some have just been tempted by the presumed opportunity that awaits the city life. Regardless, as they watch their dreams crumble the vicious cycle begins.  Though it is a physical poverty, the emotional and mental poverty and feelings of worthlessness and hopelessness, explained the officials, serves as a harder element to combat.
Rejected by their family, by society, they are the outcasts that band together, never realizing their full potential and worth. They are children whose reality is that of day to day survival, bouncing around from one odd job to the next, never giving them a chance or a reason to establish dreams or aspirations for the future.  It is not just a physical empowerment that needs to take place in the form of a consistent job or income, it is a shift in their view of reality.  It is much more about affirming their worth; worthy to be accepted, loved, and invested in.
The government officials, deemed experts in this field of research, have begun working with a local LIA partner church in Nazaret, to commence a street children rehabilitation program in the coming months.  65 children will be selected from the streets of Nazaret to participate in a three-year rehabilitation program.  This program will seek to wholistically encourage and provide for the children in a way that instills a sustainable future after their participation.  The children will be provided with basic needs such food, clothes, peer housing and will also have the opportunity to receive an education.  Mentoring and counseling will also be provided offering psychological and spiritual guidance.
As the government officials concluded their presentation to us on that day, they left us with a challenge.  They exposed us to a reality, a grim one at that, not something any of us have experienced firsthand. They encouraged us to use our voice, raise awareness and support those living on the streets not just in Nazaret but even in our own local communities.  They challenged us to consider the complexity of another's situation .  Understanding the elements that hinder change, and reminded us to support one another in a way that is wholistic and integrated, demanding  justice and stemming from a place of love and grace.