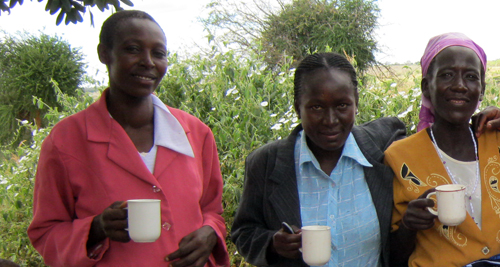 FACT: HIV/AIDS Effects 33 Million people world wide, with 70% living in Africa.
It was a hot and sunny Friday afternoon in Makeuni, Kenya.  Having already spent two days in this rural community we had become quite accustomed to the long bumpy van rides to our unknown destination.  On this particular day we were briefed that we would be attending an HIV/AIDs support group meeting.
As we trekked down the crooked, uneven path, waving at those we passed, the feeling of uncertainty resonated.  Uncertain how to act, how to encourage and how to pray for those inflicted with such a disease.  I have become quite aware of the prevalence of HIV/AIDs plaguing many throughout Africa. At this point in our journey we had probably already met some suffering from the sickness, yet here we were about to participate in a support group of which all had their own story and struggle to share.
We drove up to the small cluster of huts compiled of clayish mud, sticks and stones baking under the bright blue sky.  Stepping out of the van we were met with about ten smiles, and handshakes that quickly evolved into hugs.  The joy and life that was expressed upon our first moment of meeting was undeniable.  Quickly people began to gather chairs and benches forming a circle under some nearby trees where we would meet. We soon became a group of about 30 people, all joining together for a time of fellowship, food and sharing of testimonies.
A pastor from a local LIA partner church set the tone of the day delivering a powerful message about the love of God and opening the session up for a time of song and praise.  After worship the group chairman stood up to give us a little history and context.
Formed in 2007, and beginning with only three members, this group' membership has now risen to 25.  Ranging in age, gender, stature and levels of health this group formed as a means to support one another emotionally, spiritually and physically. They have become more than just a social gathering. They have become a family.  The chairman further explained the negative stigma placed on those that have become afflicted with HIV/AIDs be that in their work, social circles and even households.
The chairman continued on to explain that the group and its members pool their resources together forming a sort of communal bank.  He told us that the anti-retro viral meds are free.  However, the act of paying for transportation to the doctor or the money needed for other sicknesses that are more apt to develop can add up and puts a huge financial strain on the individual and their family.  The group even shared their plans for the future as they are seeking for ways to support local orphans and vulnerable children that have lost one or both their parents to HIV/AIDs.
To say the least I was blown away and could not help but think, this is what love looks like, this is what faith looks like, and this is what commitment to serving one another and the Lord looks like.  We continually heard testimony after testimony expressing how this group has affirmed their faith in a good and loving God.  I could not help but compare this to the words of Paul in 1 Corinthians chapter 13 as he defines and stresses the importance of love as it trumps all.
Paul ends his message regarding love to the church of Corinth by saying "And now these three remain: faith, hope and love. But the greatest of these is love."
In times when faith in the Lord's provision is challenged through heightened sickness and persecution from others in the community, and when hope for the future seems overwhelming and grim, it is this love they have for one another and for the Lord that will carry them through.
Now, when I hear HIV/AIDS affects 33 million people, with 70%-80% of those people living in Africa, I will specifically think of Pauline and Moses, two humble and gentle people in whom I had the privilege of sharing lunch with on this day, as well as the rest of the HIV/AIDs support group.  A group which serves as a perfect example of God's love manifested in a community.  From here on out, when I read these numbers I will see their strength, commitment, and love and be reminded to pray not for a number but for the faces and for their stories that will continue to unfold long after we have left.