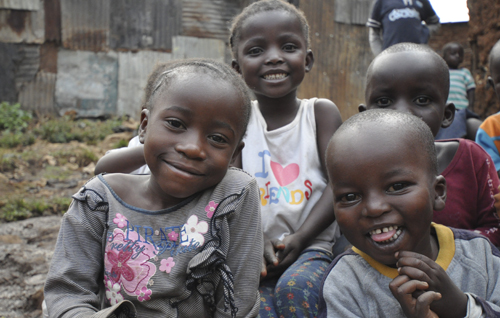 What inspires you to give?
In our daily lives simple changes and decisions can impact others around the world in great ways.  Read below to see how the youngest member of our recent documentary team, college student Amanda Bates, has chosen to advocate and raise funds for the people she met in the Mathare Valley and Kibera slums in Kenya.  See how God was revealed to Amanda through this trip and how she has sought to respond since her return.
"God took me several weeks ago to the Mathare Slum in Nairobi, Kenya. I was there with Life in Abundance and a team to shoot a documentary film about life in an urban slum. God wanted to show me heartbreak and His heart for His people. He wanted me to experience just an ounce of the heartbreak He feels everyday for the loves of His life. Having your heart broken is the worst pain one can experience. It's the kind of pain that there isn't a pain killer for quick relief.
In showing me His heartbreak, He also created an even larger "call to action" requiring something to be done.  More than just giving my time and abilities, I want to give more. Sometimes however, I feel as though I have nothing to give.  As a college student, giving all I have would be the $10 dollars I have in my bank account and my lunch aka: a box of Ramen noodles.
Growing up in the States we believe that the only "helpful" gift is the monetary kind. Where does that leave the people like me who don't have that to give? Sometimes I feel as though this leaves me in a box entitled, "I don't care". I want to correct that mind set. I want to be a part of the empowerment and transformation taking place in the lives of those halfway around the world. Very few can give enough to change the world, but everyone can give a little and collectively that can empower community transformation. Life in Abundance accepts my gift, a little as it is, and counts me in the community transformers.
So my way of contributing is to use the "Goodsearch" tool bar. You can download "Goodsearch" tool bar on to your internet browser. It's a free download and you can use it as a search engine or to shop online. Every time you use it, it donates money to the organization of your choice. Of course in my case Life in Abundance is the organization of choice. It is only a small thing I can do but I have discovered that when your heart becomes involved with something, everything changes. God changes you.
So, Goodsearch for God and know that you are doing a small thing with a big impact."