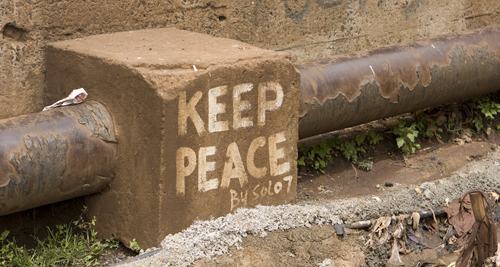 In August of this year, Kenya will be voting on either the adoption or rejection of a new constitution. As one can easily imagine, the campaigning both for and against the draft constitution has been passionate and at times heated.
Last weekend, a coalition of churches joining together for a prayer rally against the constitution was dispersed by the detonation of a series of grenades. The blast led to a stampede in which six were killed and more than 100 were injured. It is still under question as to who was responsible for the incident. To read more about the incident check out the most recent reports from BBC News.
In this time of uncertainty and heightened tensions, we ask that you join us in prayer for the future months in Kenya, especially for the people residing in the Nairobi capital.  We are praying for peace during the campaigning efforts, and that the voice and concerns of the people would be heard and taken to heart.  We are praying for those living in the slums in hopes that there will be safety and a strong sense of collective community.  We are praying for God's provision to the people and that the Lord's wisdom will be apparent in all decisions that are made.
It is with great faith in our Lord that we pray for the election, outcome, and the months leading up to August.  Thank you for carrying this burden with us and for your commitment to our brothers and sisters in Kenya.  We encourage you to type your prayer in the comment section of this blog post.