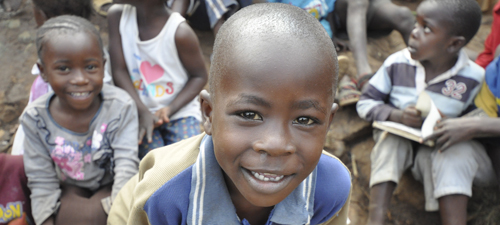 Justin Ahrens, Principle and Creative Director for Rule29 Creative, as well as an LIA board member, shares about his experience from his time spent in the slums working on our latest documentary project.  Read below as Justin Ahrens answers the question, How Are You?
A Changed Mind by Justin Ahrens
I'm on my way home from the slums of Nairobi, Kenya after working on our second documentary film. I'm exhausted, and my head is continually spinning. To put it simply, as with every Africa trip so far, I will not be the same.
I was hoping to post every day while there, but with limited web access and two great writers, Bob Davidson and author Kelsey Timmerman on the trip, I decided to simply photo blog (via Facebook) and spend the majority of my time trying to run the crew as best as possible and fully soak in the experience.
It's hard to explain or express what an experience this trip to Africa has been. Filming a documentary in the slums is bound to change you, but I was not expecting this. I had been to Kibera (Africa's 2nd largest slum) and Mathare (Nairobi's oldest) before, but not up close and personal.
We spent seven straight days trying to get to know the slum residents, seeing what they see, walking, touching and smelling their environment. The location was different than our last documentary project (This is My Home), but sadly many of the same issues exist, all of which are simply not right. Dangerous living structures, no roads, unhealthy water, no sanitation, no waste removal, lack of education, no health care, crime, fear, HIV/AIDS, loss of hope, and the vulnerability of children to simply name a few. It was a rare day when you didn't turn your face to cry for a few minutes.
The issues of the slums are so complex – government corruption, health concerns, religious culture, commerce, structural issues, etc… And the fact of the matter is that us Westerners tend to think we actually live in an Extreme Home Makeover world. If we build this, or fund that project, all things get fixed and fall in place. But that way of thinking is simply not accurate, and it inevitably continues to add to the issues.
The reality is that we need to help battle the biggest monster of all: generations of slum residents with mindset that slum life and its living conditions are acceptable.
But, hopelessness cannot be an option.
However, it was a feeling that continued to surface wherever we went. Mathare Valley (a section of the Mathare slum) is without question the worst place I have ever been. With a contaminated river, treacherous pathways, raw sewage, horrible living conditions, and water not safe to drink – it's simply an awful place to try to survive.
I do not write these things for any other reason than that they are real in our world right now. And even for the most marginalized communities there is hope. NGO's like Life In Abundance are working to help change the mindset of the poor communities they work with so they feel they are worth breathing the same air we do. They are worth joy. They are worth living a life as abundantly as possible. They believe, as do I, that a changed mind is key – a changed mind gives you the hope to dream again.
I hope you consider supporting the film, or simply watching when it's ready to premiere this Fall. Even better yet, is there something you can do to help the poor in your neighborhood?
___________
To see more of Justin Ahrens photos taken during the filming of the documentary, check out his photo album found here.
Tomorrow we will be featuring graphic designer and illustrator, Von Glitschka.  Von will take us on a visual journey through the Mathare Valley slums and share his reactions from the time spent in the communities and overall experience.