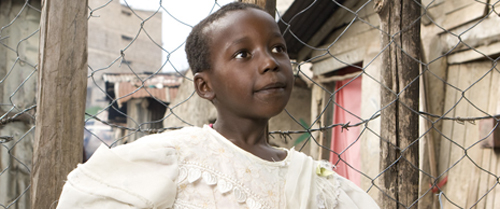 I walk by, and see her.
In the midst of hundreds of other children I've seen this day, she catches my utmost attention. I stop walking and bend down, just long enough for our eyes to meet. She can't be more than 18 months old and her little round belly reminds me of my daughter at that age, though this little  girl's belly is distended from malnourishment, something my little girl will likely never experience.
She continues to fidget with the dirty shirt that she has turned into pants, as she holds her shorts in her arm. The scene would be actually be cute if she were not alone, standing in the street, visibly ill, without any garments protecting her from the filth of these streets.
My mind quickly shifts to the suburbs where I live back in the United States and the coffee shops where I often meet with people to share about the ministry of Life in Abundance. I remain knelt down; looking at this sweet girl, while the words of Jesus 'the poor will always be with us' ring through my head.
If I've heard it once, I've heard it a thousand times, "I think it [the ministry of LIA]is really noble," will remark a well-meaning believer, " but EVEN Jesus said that 'the poor will always be with us', so what is the use in wasting resources (time, energy, effort, money) on a problem that will never go away?" I can understand this sentiment, really I can. If the poor will always be, and if Jesus said it, then why not focus our limited resources toward more 'productive' means of expanding the Kingdom?
And yet, as I look at this little girl, I know that Jesus would not want his followers to pass her by, reasoning that we should not have compassion on her because 'the poor will always be.'
Still staring at this girl, not knowing what is best to do, I simply and gently begin to remove the denim shorts from her arm. In the middle of the slum, standing in the busy marketplace alleyway, I have the opportunity to clothe Jesus, disguised as a sweet and helpless little girl (see Matthew 25: 31-46).
This little girl isn't poverty. She is a daughter of a King who made her in His likeness. On this special day, I'm honored to have served the daughter of our King.
We are a part of a Kingdom in which we are called to live in a new reality, where:
–    The first become the last
–    The weak are made strong
–    The meek experience an overwhelming inheritance
–    The lowly and marginalized are made whole
–    The blind receive sight, and
–    The treasures and powers of this world are made worthless by the grace and peace freely given.
In spite of all our transgressions, we are invited into a great story, asking nothing, and everything, at the same time. The paradox is astounding, the sacrifice unfathomable, and the challenge unparalleled. May we be refined, that we may have eyes to see, and ears to hear, the truth of the Kingdom, as intended. May we be given wisdom, courage, and faithfulness to serve our Lord in the most inconspicuous disguises.