It's the people, the smells and the sounds. It's the community. It's the uncomfortable nature of being in unfamiliar territory. But what probably sticks in everyone's mind the most are the people.  There is something very special and personal about seeing the ministry of LIA in action.
When you visit the communities where we serve, you will have an opportunity to have powerful encounters with people who live 8,000 miles away from your home. There are once-in-a-lifetime opportunities that you have to just sit, listen and be with people who live in unimaginable circumstances, sometimes visiting in their own homes.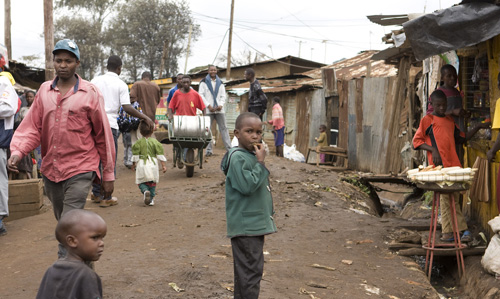 The reality is that most of us will not have the opportuntiy to have experiences like these. So, we concluded that the next best option is to bring these experiences to you, rather than having you go to them!
Having made this realization what followed was our first documentary film, "This is My Home" which takes you into the lives of two former street children and one young girl who is trying her best to stay away from the harsh life on the streets of Addis Ababa, Ethiopia. If you haven't purchased this movie, I'd encourage you to do so today and host a showing with your family and friends.
Today, it is my great pleasure to announce our second documentary film project that will focus on church-based micro-enterprise initiatives in the largest slum south of the Sahara, Kibera in Nairobi, Kenya.  This project, in conjunction with our most recent press release, illuminates the conditions in Kibera and the plans we have begun to implement through some of the local churches in the community.
In April, a team of 'creatives' (professionally creative people) are volunteering their time, energy and talent again to help LIA tell the personal stories. These stories just wouldn't be heard if you don't visit our communities.
The cost of our first documentary was funded entirely by people who wanted to hear the voices of the people in Merkato, Ethiopia. We are hopeful that you will partner with us in the making of this second film. In the spirit of the first film we ask you for a donation of $10 or more and you will actually get your name in the credits of the movie. In addition you will have the satisfaction of knowing that you are serving to empower some of Africa's poorest communities.
To help us tell the story this time we will be taking friend and author Kelsey Timmerman with us.  Check out the film's donate page to learn more about his decision to partner with us as well as how he will spend his time in the Kibera community.
We are excited to have the opportunity to yet again embark on a story that will hopefully transform the hearts of viewers, highlighting both the overwhelming need as well as the underlying hope and faith these beautiful people display.
We invite you to come see community in a new way.
Go to www.heldhostagebyapathy.com and donate today.