The last of our church transformation stories from Ethiopia comes from Kara Kore Presbyterian, another church that is meeting the needs of the Addis Ababa community.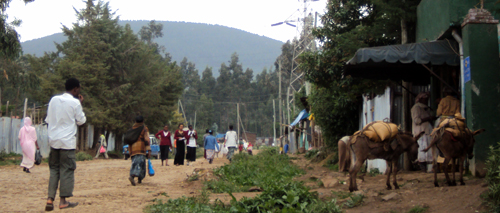 Kara Kore Presbyterian Church
Community: Addis Ababa, Ethiopia
Having been a partner church with us since July 2006, Kara Kore Presbyterian has been able to reach their community using health education, access to organized saving and credit associations, and awareness teachings on micro finance, and sanitation.
Education:
The initial schooling provided through the church began in 2000 as an informal school seeking to teach the English and Amharic alphabets to more than 30 children.  This school has since evolved to provide formal education to over 338 vulnerable children coming from families experiencing extreme poverty.  This system allows children to receive an education while protecting them from having to look for low level work which could lead to exploitation because of their age and situation.
Social Services:
The church has also been able to provide for those that have been ostracized by their community due to diseases such as HIV/AIDS.  Through the church many have been able to receive supplementary food, house rent coverage, and medication.
Micro-Enterprise:
Consistent with other churches, a volunteer with experience in entrepreneurship offers training sessions to prepare beneficiaries for effective loan usage and management.  Businesses that have been generated through these loans include: injera making, poultry selling, and sewing.
As we conclude our series regarding the transformation taking place through the work of some of our partnered churches in Ethiopia, it is our hope that the stories have been both encouraging and inspiring offering a glimpse into the work you have helped empower.