Are you interested in learning more about how your generous support has helped to empower the ministry of LIA over the years?
We are excited to give you a chance to tangibly see and read about the transformational impact that has taken place throughout the communities we serve within northeast Africa.  Our annual report highlights the growth of LIA organizationally as well as celebrating the progress and work of our empowered partner churches throughout 2008. Featured below is one of our "Stories of Transformation" found in our annual report regarding the Kisumu community in Kenya.
"Empowering Vulnerable Children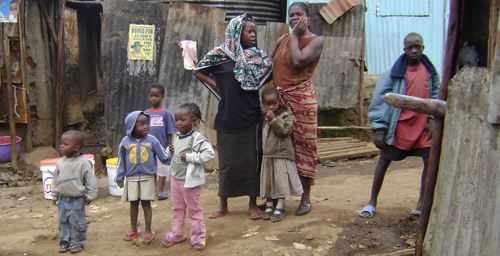 "The Kisumu community represents a vision of great poverty.  The Nyalenda slum is an overpopulated area that suffers from an abundance of trash, which has the potential to cultivate many diseases.  Still recovering from the violent outbreaks that took place after the elections in February of 2008, there is yet an unmistakable presence of joy that resonates in this community.  Walking the streets you hear a multitude of voices singing and can sense the feeling of great hope despite the current situation.

One church in particular, Revival of Salvation Ministries, is a driving force in the community.  With a very simple church building structure, utilizing the materials of mud and tin, the music, dancing and smiles have made this simple structure come to life.  The children's choir of the church is a collaboration of 60-70 children that are orphans or come from single-parent homes.  The cheerfulness and delights that resounds from these children's voices echoes throughout the community and serves as a representation of hope for the future.
In 2008, LIA successfully trained and equipped five local church partners to commence a full-scale street children and rehabilitation program in the Nyalenda slums.  We couldn't be more excited to join these pastors in serving to empower the vulnerable children of their community. "
**Want your very own copy of our annual report leave us a comment on our website with your name and address and we will send a hard copy version to you!
Follow us on the blog the rest of this week as we share "Stories of Transformation" from Addis Ababa, Ethiopia as well as Rumbek, Sudan.