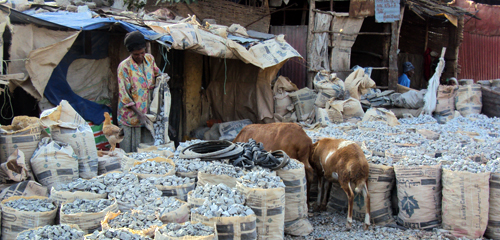 Nazareth Emmanuel United Church
Community: Nazaret, Ethiopia
This church has been encouragingly aggressive in implementing wholistic ministry activities.  In combination with the initiatives in micro-enterprise, house renovations and construction, the church remains connected with the community by way of home visits, supplementary feeding and other tasks for addressing community needs.
The church works in harmony with the local government bodies to establish a strong reputation and gain an advantage that will better allow it to address the felt needs of the very disadvantaged groups of the community.  The church is also successful in not only disseminating the message of the gospel but also planting churches in its intervention areas.
Micro-Enterprise:
Selected beneficiaries were taught about adaptive mushroom production as a means to combat the threats of famine that often plagues the community.  The training taught the community about the development of a stable food source, specifically mushrooms which offer nutritional value.  Other forms of entrepreneurial empowerment include gravel sales and distribution, sheep and calf fattening, and various other petty trading businesses.
Social Services:
Like many of the other churches described, Nazareth Emmanuel United Church has constructed programs that work to renovate both community houses and facilities for the members of the community.  This aides in sanitation and overall safety.  Medical services have also been put in place to offer free assistance to those that cannot afford such care.
This community has experienced undeniable growth and the early stages of transformation by way of this church!