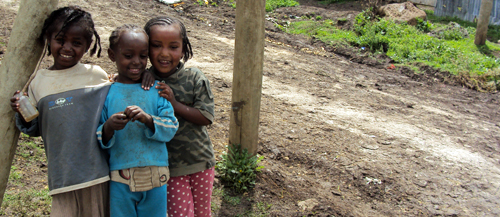 The growth of LIA in 2009 has allowed for amazing transformation and community development to take place through our partner churches.  We hope you will enjoy our blog series this week in which we will feature four of our partner churches throughout Ethiopia. We will highlight stories from three churches in Addis Ababa and one from Nazareth. Please leave comments if you have visited these churches first hand!
Antioch Faith Baptist Church
Community: Addis Ababa, Ethiopia
Overview:
Located in the busy urban setting of Addis Ababa, this church has been undertaking different activities including the provision of health, environmental, women's and child's rights education during community meetings, as well as other social services like early childhood education, micro-enterprise training and loan servicing.  All of this has been enacted while also establishing and providing sustainable public health facilities for the needy members of the targeted community.
Education:
Antioch Faith Baptist Church has a kindergarten in its compound which provides free educational services to selected families that cannot afford to pay, as well as a reduced rate for those that are living on a limited income.  The tuition fees, school supplies and uniforms are also provided for the 34 students in attendance.  Children from many impoverished families are able to receive an education that would be unattainable without the work of the church.
Micro-Enterprise:
The church offers training sessions to selected beneficiaries regarding entrepreneurship and business management practices, enabling trainees to be self-reliant and avoid dependency.  Selected beneficiaries are also able to identify the income generating activities which they could utilize to generate their own income.  Businesses that have been supported through the church include: injera making, petty trade and small shops.
Construction:
Antioch Church has also been working to construct bath/showing rooms as well as toilets for public usage.  Charging a minimal fee, the church is able to support the upkeep of the facilities as well as plan for future construction.  The facilities aid the community through sanitation and hygiene management as a measure to protect against diseases and infection.
These community initiatives are implemented in a way that establishes a sustainable system of support to the church as well as the beneficiaries.
Tomorrow we will be highlighting the work of Akaki Kalehiywot Church also located in Addis Ababa. Check back with us to read more about the community transformation work through these local churches.